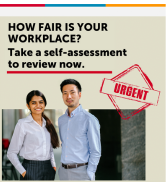 Review your Organisation's Workplace Practices
Use the TGFEP self-assessment in the Fair and Progressive Employment Index to check if your employment practices are in line with the TGFEP. You will receive actionable insights as well as recommended resources, training and assistance that would be relevant to you.
This module is jointly developed with the Institute of HR Professionals (IHRP).