Organisations reach out to potential candidates through different platforms. These include online job postings (e.g. on company's website, career portals or social media), in newspapers, at the shopfront and event at HDB blocks.
Regardless of the platform used, all job advertisements must adhere to the Tripartite Guidelines on Fair Employment Practices.
A job advertisement that is, or could be perceived as discriminatory is less likely to be effective in attracting the right talent pool. It may also damage your organisation's image when your organisation's hiring practices and policy are place under close scrutiny.
In this article, we share 3 tips to help you write non-discriminatory job advertisements.
3 Tips to Writing Non-Discriminatory Job Advertisements
1. State the selection criteria relating to qualifications, skills, knowledge and experience
Age, race, gender, religion, marital status and family responsibilities, or disability should not be used as job requirements. Employers who advertise a specific attribute as a job requirement could be perceived to be discriminatory.


2. Say "No" to words or phrases that could be perceived to be discriminatory
Let's take a look at some real-life examples of job advertisements containing words or phrases that are not acceptable as they could be perceived to be discriminatory.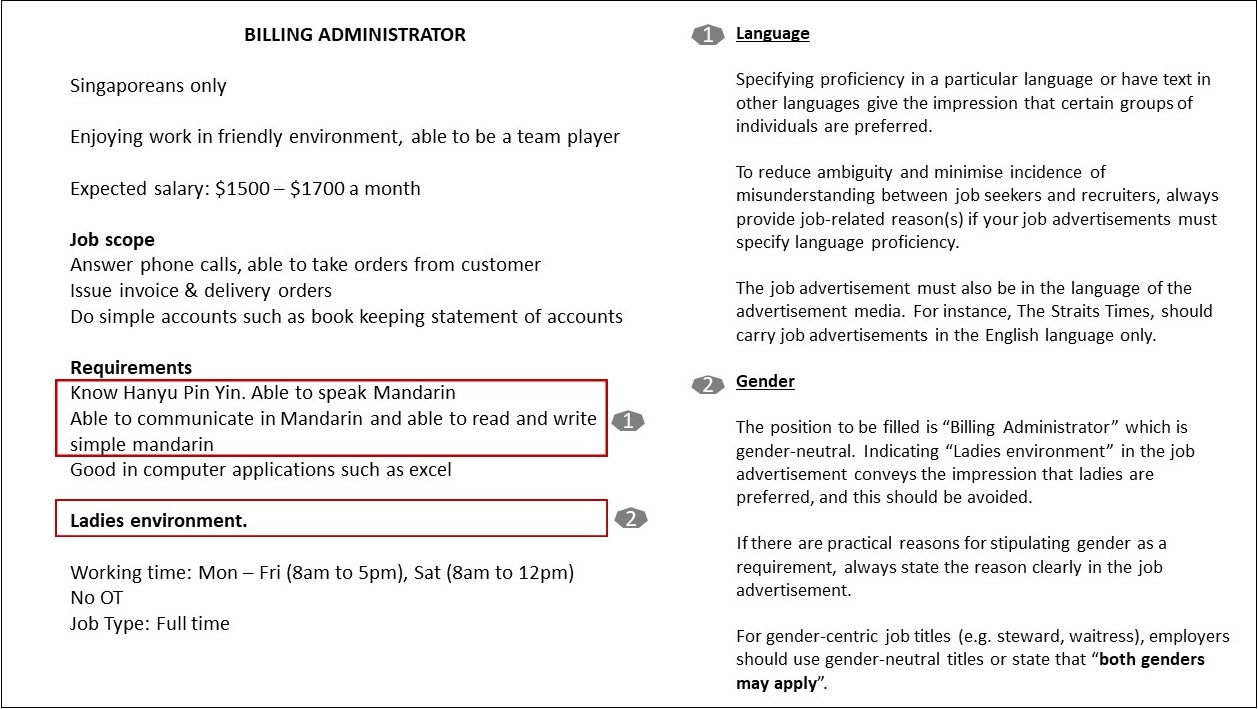 Example 1: Advertisement posted online
Example 2: Advertisement found outside a retail shop in local shopping centre
Please also note that for the above point on nationality, Singaporeans must remain the core of our workforce. At the same time, foreigners play a valuable role in complementing our workforce. Foreigners with relevant qualifications and experience help to fill gaps in skills and expertise. Employers and recruiters are advised to make reasonable efforts to attract and consider Singaporeans for job positions on merit, and to train and develop their potential and careers. All jobs advertised must be open to Singaporeans.
For more examples of words or phrases to avoid in your job advertisements, download the Tripartite Guidelines on Fair Employment Practices.


3. Examine your unconscious biases
Each of us has our own blind spots or unconscious biases that we bring to the workplace. Examine your unconscious biases and do not let them influence you in crafting your job advertisements.


Before publishing any advertisement, always check to ensure adherence to the Tripartite Guidelines on Fair Employment Practices.
To learn more about unconscious biases and their impact on decision-making, read "Facing the Illusion of Inclusion".
Note: Under the Fair Consideration Framework (FCF), employers will be taken to task for not considering the workforce in Singapore fairly for job opportunities. To find out more about FCF, please visit Ministry of Manpower's website.