Companies with bizSAFE recognition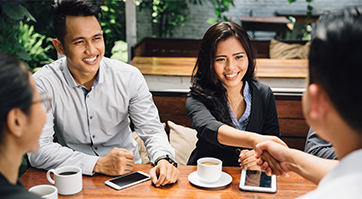 43,000
companies have achieved bizSAFE recognition
Who May Apply
You may apply for bizSAFE if your company is a registered business in Singapore.
For overseas-registered companies, the bizSAFE Level 3 Risk Management (RM) Audit has to be conducted by an Accredited Auditing Organisation (AAO) at your overseas workplace or site office.
Fees and Funding
It is free to apply for bizSAFE. However, you may need to invest in training and auditing to qualify for certain bizSAFE levels.
Though bizSAFE is structured as a 5-step programme, your company may apply for a level directly as long as it meets the level's requirements. We encourage companies to progress to bizSAFE Level 3 and above, which recognises that your company has conducted risk assessments for your workplace, in compliance with the requirements in the WSH (Risk Management) Regulations.
Application for bizSAFE Enterprise
Please click here to submit your bizSAFE Enterprise application. Renewal applications should be submitted two months before your company's bizSAFE status (Level 3 and above) expires.
Please allow 10 working days of processing from the date of submission. Once your application is approved, the bizSAFE Enterprise e-certificate and logo will be sent to your company's senior management representative via email.
Note: By submitting this application, you have read and understood the contents of the Guidance Notes
View related resources