National WSH Campaign
Organised by the Workplace Safety and Health (WSH) Council, and supported by the Ministry of Manpower (MOM), National Trades Union Congress and Singapore National Employers Federation, the annual National WSH Campaign sets the stage for the nation's year-long outreach efforts to promote safety and health in workplaces. The theme for this year's Campaign focuses on "Reporting Saves Lives".
Launch of the National WSH Campaign 2023
Launched on 23 May 2023, the National WSH Campaign 2023 calls on every individual, including employers, workers and members of the public, to do their part in looking out for the safety and health of workers by reporting unsafe situations at the workplace.
In his Welcome Address, Mr Abu Bakar Bin Mohd Nor, Chairman of the WSH Council, called on:

• Employers to set up an internal reporting system for their workers to report unsafe situations;
• Workers to inform their supervisor/ employer, or union leader, or the MOM should they spot unsafe practices or conditions; and
• Members of the public to report to the MOM safety lapses that they witness at workplaces.

In his Opening Address, Mr Zaqy Mohamad, Senior Minister of State for Manpower, announced the nation's exit from the Heightened Safety Period, and the introduction of SAFE (Safety Accountability, Focus and Empowerment) measures to strengthen the WSH ecosystem and the roles of each stakeholder in uplifting WSH.
The launch event was graced by members of the Multi-Agency Workplace Safety Taskforce (MAST), and attended by close to 500 leaders and representatives of trade and industry associations as well as government agencies. Participants at the launch event were treated to a Campaign skit focused on "Reporting Saves Lives", which incorporates a presentation on the benefits of an internal reporting system by Mr Yeo Kong Nee, Managing Director, ENGIE Services Singapore.

Campaign Resources and Microsite
Watch our Campaign video to see how a worker shows care for his co-workers by keeping a lookout for workplace risks and reporting them immediately to his supervisor. Find out how the employer reminds his employees to work together in making their workplace safe for everyone.

Visit the Campaign microsite for more information on the National WSH Campaign 2023.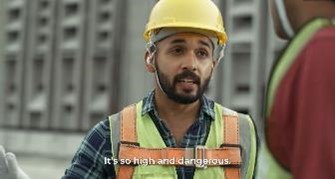 Download Campaign posters and other resources from the microsite which you can share with colleagues and co-workers.