National WSH Campaign


The annual National WSH Campaign sets the stage for the WSH Council's year-long outreach efforts to promote safety and health at the workplace. It is organised by the WSH Council, and supported by the Ministry of Manpower, National Trades Union Congress and Singapore National Employers Federation. The theme of this year's Campaign continues to be "Take Time to Take Care of your Safety and Health".

Launch of National WSH Campaign 2022
Launched on 28 April 2022, the National WSH Campaign 2022 was organised to rally both employers and employees to step up workplace safety and health by doing an energising National WSH Campaign Workout – a key highlight in this year's event. The Campaign launch was attended by over 800 attendees.




Watch our Campaign music video which comes with catchy lyrics to remind people to look out for hazards and stay active and mentally alert, and move to the beat with our National WSH Campaign Workout which is a fun and easy way to get everyone to exercise.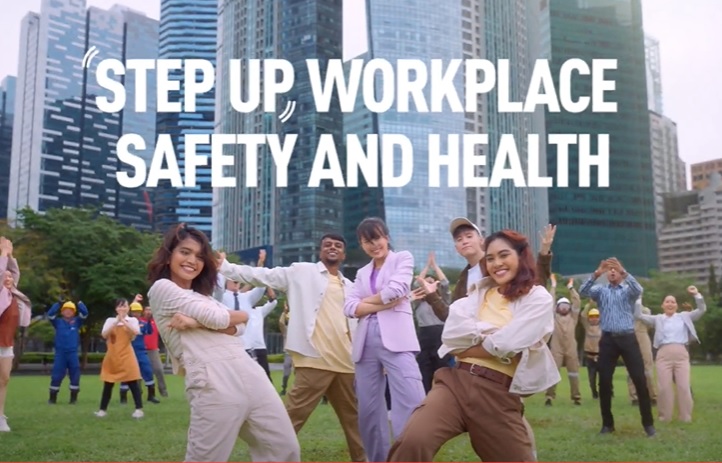 The Campaign launch programme was as follows:
• Welcome Address by Mr John Ng, Chairman of the Workplace Safety and Health Council
• Congratulatory messages from international partners who joined us in celebration of the Campaign launch, held in conjunction with World Day for Safety and Health at Work
• Opening Address by Mr Zaqy Mohamad, Senior Minister of State for Manpower
• Launch of National WSH Campaign 2022
- Screening of Campaign music video
• Commencement of onstage campaign activities:
- National WSH Campaign Workout
- Health Talk on Physiotherapy Tips: Office and Industrial Ergonomics
- Quiz
Through our Campaign, we aim to:
• Remind workers to report any hazards to their management immediately, and supervisors to pay attention to safety checks and warning signs, even when faced with tight deadlines.
• Encourage everyone to develop the habit of looking out for one another's safety and health.
• Urge companies to adopt safe workplace practices so that each and every one of the workers goes home safely to their families.




How to participate in the National WSH Campaign 2022
Do the National WSH Campaign Workout
• Stay active and alert by making the National WSH Campaign Workout part of your daily/weekly exercises. Watch the step-by-step tutorial video and get familiar with the routine.
• Introduce the workout in your workers' exercise routines (such as morning warm-up exercises or afternoon breaks) in the workplace.

Take part in the National #WSHWorkout Challenge (starting from 12 May 2022)
• Submit a video of yourself or with your friends doing the workout.
• You can also participate as a group representing your company.
• Check out the contest details on the Campaign microsite and stand a chance to win attractive prizes.

Share the Campaign collateral and resources with your colleagues and workers
• Download and use our Campaign stickers for Whatsapp and Telegram.
• Download and print our Campaign posters to put up at your workplaces.
• Download our industry banner. You may also produce this banner (3m x 1.5m) with ChannelWerkz. Please email joonell@channelwerkz.com.sg or call 9239 5727.
Set Care Time
Set up 'Care Time' as a weekly reminder on your mobile phones to take time to take care of your safety and health.

Take the Campaign persona quiz
Take part in the Campaign persona quiz and discover what your persona is. Find out more on how you can improve your health and lifestyle habits for your safety.

Care Kit for Employees
Download this kit where you will learn about health tips and more on how to be safer at work.

Employer's Kit
Find out how to create a healthier and safer workforce.