2. Learn About the Human Capital Partnership Programme (HCP)
The Human Capital Partnership (HCP) Programme is a tripartite initiative that brings together a community of exemplary employers in Singapore who have progressive employment practices in their organisations and are committed to developing their human capital.
Developing human capital is essential for:
Businesses to attract and retain talent
Singaporeans to continue to have better jobs, better salaries and better careers
Singapore's economy to remain competitive
Employers in the programme are known as Human Capital Partners (HCPartners). They are employers of choice who value their people, and are committed to investing and developing their employees across all levels.
What It Means for Employees
The HCPartners focus is to develop their local workforce. You can look up the list of HCPartners to identify organisations that provide opportunities for growth, continual learning and training programmes, and career development.
HCP Mark
All HCPartners receive the Human Capital Partner (HCP) Mark, a visual symbol that identifies them as exemplary employers.
With the HCP mark, they can:
Enjoy faster response and higher service standards from a dedicated hotline for transactions with the Ministry of Manpower.
Get advice and better access to other government support and resources, such as human development schemes and grants.
Use the HCP mark in publicity materials to differentiate themselves. Job advertisements from HCPartners will gain higher visibility as they will be tagged with the HCP logomark on MyCareersFuture.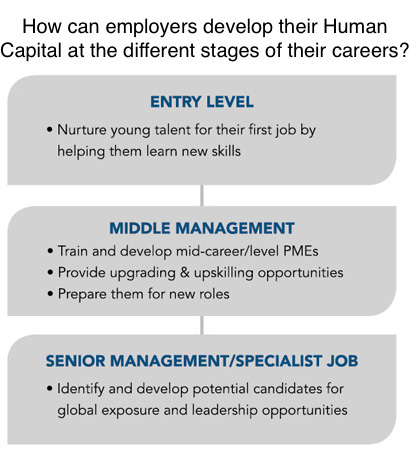 Admission into the HCP Programme is through nominations from Tripartite Partners and relevant sector agencies. It is subject to review and assessment of the organisation's human capital practices.
For enquires on the HCP Programme, please contact us at hcpartner@tafep.sg.