WSH Forum for Logistics and Transport Industry
10 Jul 2023 Forum Past Event Forklift , Vehicular Safety Logistics and Transport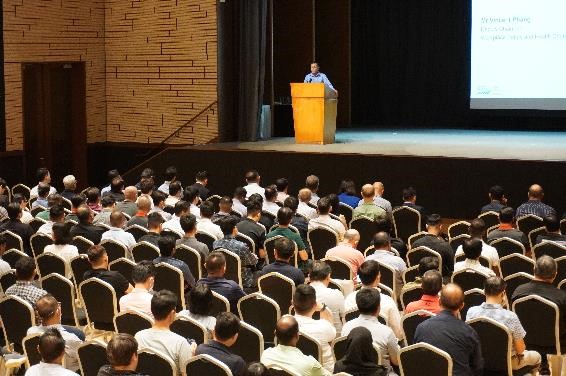 Date:

06 Jul 2023

Time:

9:30 AM - 12:30 PM

Location:

Auditorium, Level 1
Trade Association Hub
9 Jurong Town Hall Road
Singapore 609 431


Spots Available:

200

Event resources:

Added
(Jump to event resources)
At the WSH Forum for the Logistics and Transport (L&T) Industry, co-organised by the Singapore Logistics Association and Workplace Safety and Health (WSH) Council on 6 July 2023, participants were urged to take charge of WSH and foster industry ownership.

In his opening address, Guest-of-Honour Mr Vincent Phang, Deputy Chairman of the WSH Council, expressed concern for the WSH performance of the Transportation and Storage sector, having had one of the highest numbers and rates of fatal and major injuries, during the Heightened Safety Period. He also shared that the Ministry of Manpower would be conducting enforcement operations on vehicular safety from August 2023, and called upon the more progressive companies to support their peers by sharing with them their good practices. Mr Phang also congratulated recipients of the WSH Innovation Awards and WSH Awards for Supervisors 2023 for the L&T industry.
Participants at the Forum gained much insights from the panel discussion, themed "Speak Up, Stay Safe and Healthy at Work". Representing employers, workers and academia, the panelists shared how companies can empower workers to speak up so that they are more likely to provide feedback on WSH matters, or intervene when they witness unsafe practices at work.
The Forum also saw a presentation on the Approved Code of Practice for Chief Executives' and Board of Directors' WSH Duties by the WSH Council, while the WSH Council (Logistics & Transport) Committee highlighted key changes to the newly revised WSH Guidelines on Safe Loading and Unloading on Vehicles. In addition, the Ministry of Manpower shared common contraventions and good practices on vehicular safety, as well as case studies and lessons learnt. Close to 200 senior managers, supervisors and safety professionals attended the Forum.
Read Mr Vincent Phang's opening address.
Download the speakers' presentation slides and other resources.
Download the WSH Guidelines on Safe Loading and Unloading on Vehicles.
Watch the National WSH Campaign video for Employers and the animated video on worker thrown off overturned forklift.
Companies can look forward to more resources such as the SME WSH Pack on vehicular safety by the end of July.
View related resources