WSH Forum for Facilities Management Industry 2022
12 Dec 2022 Forum Past Event Facilities Management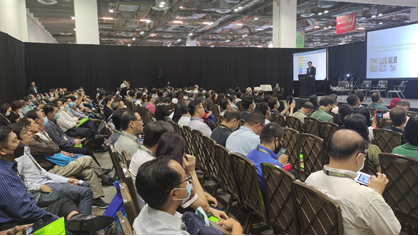 Date:

17 Nov 2022

Time:

2:30 PM - 5:00 PM

Location:

Conference Room B, Level 1, Marina Bay Sands, Sands Expo & Convention Centre

Spots Available:

200

Event resources:

Added
(Jump to event resources)
The WSH Council held its annual WSH Forum for the Facilities Management (FM) Industry on 17 November 2022 with the theme "Evolving WSH in Facilities Management". The event focused on lessons learnt from the COVID-19 pandemic, and new facets of WSH which have emerged and become more relevant.
Guest-of-Honour Mr Daniel T'ng, Chairman of the WSH Council (FM) Committee, highlighted that the 40 workplace deaths so far this year had exceeded the 37 fatalities recorded for the whole of 2021, out of which five were from the FM industry. He urged companies to keep up with good WSH practices during this "Heightened Safety" period, and to also embed and ingrain WSH into their workplace culture.
Mr T'ng also stressed the importance of managing councils of MCSTs in ensuring safe work activities on the premise. To assist MCSTs, the "Guide to Workplace Safety and Health for Management Corporation Strata Title" was launched at the event to provide clarity on the WSH roles and responsibilities for management councils and managing agents so that they can uplift safety standards in strata-titled developments.
The Forum consisted of two distinct tracks with presentations by a diverse panel of speakers from the government and industry. The morning track focused on WSH technology and showcased market-ready technologies and innovative solutions from users' perspective. These sharings were aimed at helping FM stakeholders on available solutions to achieve productivity gains and improve WSH outcomes.
The afternoon track saw presenters sharing on recent WSH incidents in the industry, best practices from a FM service provider's perspective, and the safeguards needed for workers' health through heat management and wise nutritional choices.
Read
Opening Address by Mr Daniel Tng at the WSH Forum for Facilities Management Industry 2022
.
Download the
Guide to Workplace Safety and Health for Management Corporation Strata Title
.
View related resources