Target Zero Falls Forum
14 Jul 2022 Forum Past Event Slips, Trips and Falls , Work at Height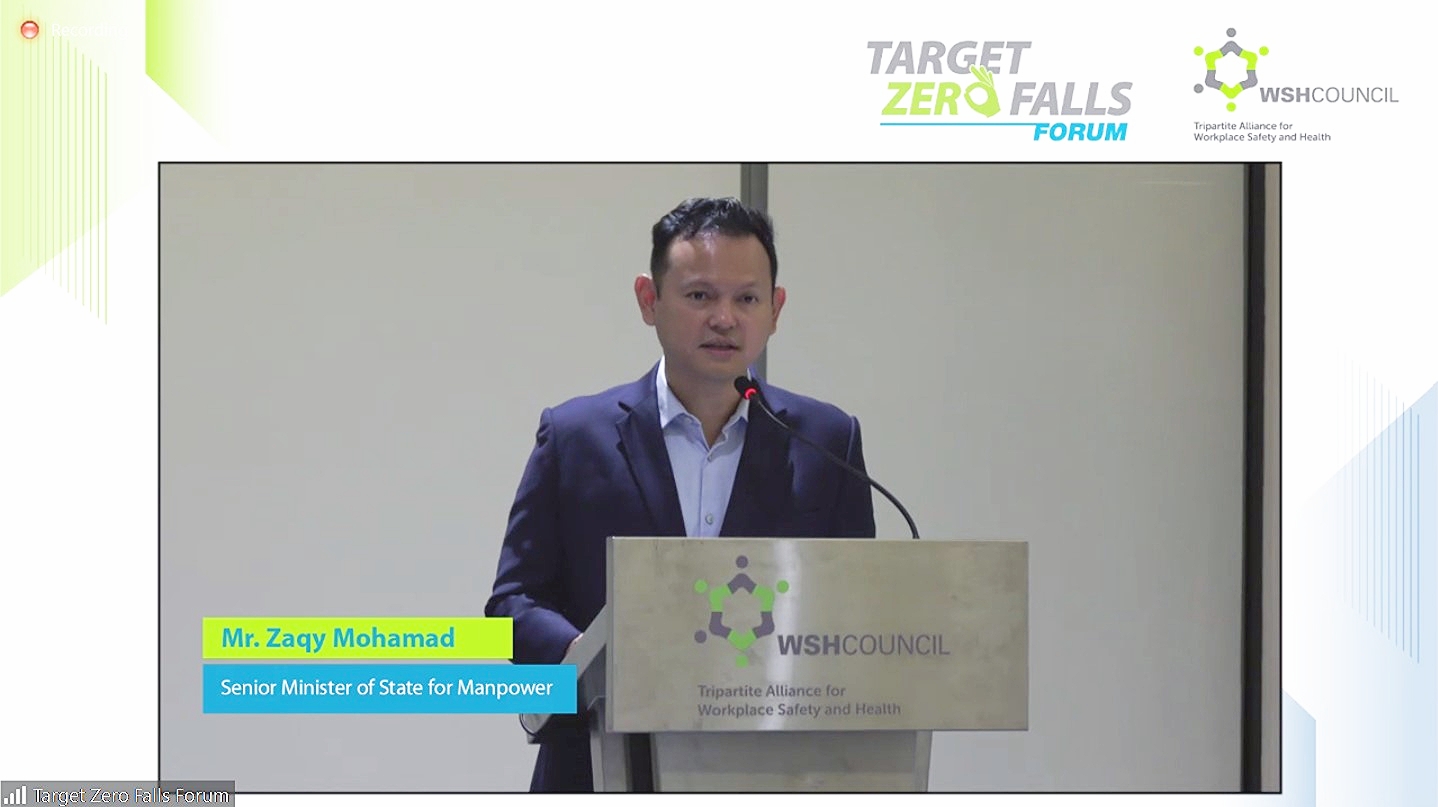 Date:

14 Jul 2022

Time:

9:30 AM - 12:30 PM

Location:

Zoom or e2i event hall

Spots Available:

800

Event resources:

Added
(Jump to event resources)
Falls from height has been one of the top contributors to workplace fatalities in Singapore this year. Based on preliminary investigations of these accidents, many were found to have inadequate or no basic safety and health control measures in place.
Close to 800 participants attended the Target Zero Falls Forum to learn the importance of fall prevention and how they can mitigate work at height risks through Behavioural Based Safety Programme, as well as gain insights from recent accidents' findings. The forum also imparted lessons on STF prevention.
The Forum also launched the
Target Zero Falls Campaign
that highlighted four key actions for the industry. Find out how you can participate in the Campaign to address work at height risks and download resources for work at height.
Time
Programme
9.30am
Opening Address by Mr Zaqy Mohamad
Senior Minister of State, Ministry of Manpower

9.40am
Launch of Target Zero Falls Campaign 2022

9.45am
Sharing on Recent Accidents and Findings
Mr Goh Chin Keong, Deputy Director, Investigations and Inspectorate Specialists, Occupational Safety and Health Division, Ministry of Manpower
10.05am
Working Safely at Heights for SMEs
Mr Winston Ang, Honorary Secretary, Micro Builders Association Singapore
10.35am
Promotion of National WSH Campaign 2022

10.40am
Break

10.45am
Effects from a Fall – Major and Minor Injuries
Dr Ivan Chua, Senior Consultant, Head of Orthopaedic Trauma Service, Tan Tock Seng Hospital
11.15am
Take Action Against Slips, Trips and Falls with 5S
Mr Chan Hsien Hung, General Manager, Yang Kee Logistics Pte Ltd
11.45am
Behavioural Based Safety Programme
Mr Fawzy Din, Regional Behavioural Safety & Emergency Response Plan Manager, Linde Gas Asia Pte Ltd

12.15pm
End of AM Track

View related resources