Workplace Housekeeping
Learn about the importance of workplace housekeeping. Find out about related laws and good practices.
Definition: Workplace Housekeeping
Workplace housekeeping may be defined as activities undertaken to create or maintain an orderly, clean, tidy and safe working environment. Effective housekeeping can eliminate many workplace hazards and help get work done safely and properly.
Good housekeeping can result in:
More effective use of space;

Better inventory control of tools and equipment;

More efficient clean up and maintenance;

More hygienic workplace conditions; and

Improved look and feel of the work environment.
5S Concept
5S is a workplace organisation method based on a Japanese quality management concept that companies may use to achieve a clean and organised workplace. It provides a systematic approach to achieving good housekeeping and offers opportunities for continual improvement and enhanced productivity.
The following diagram gives a snapshot on the key steps to 5S implementation: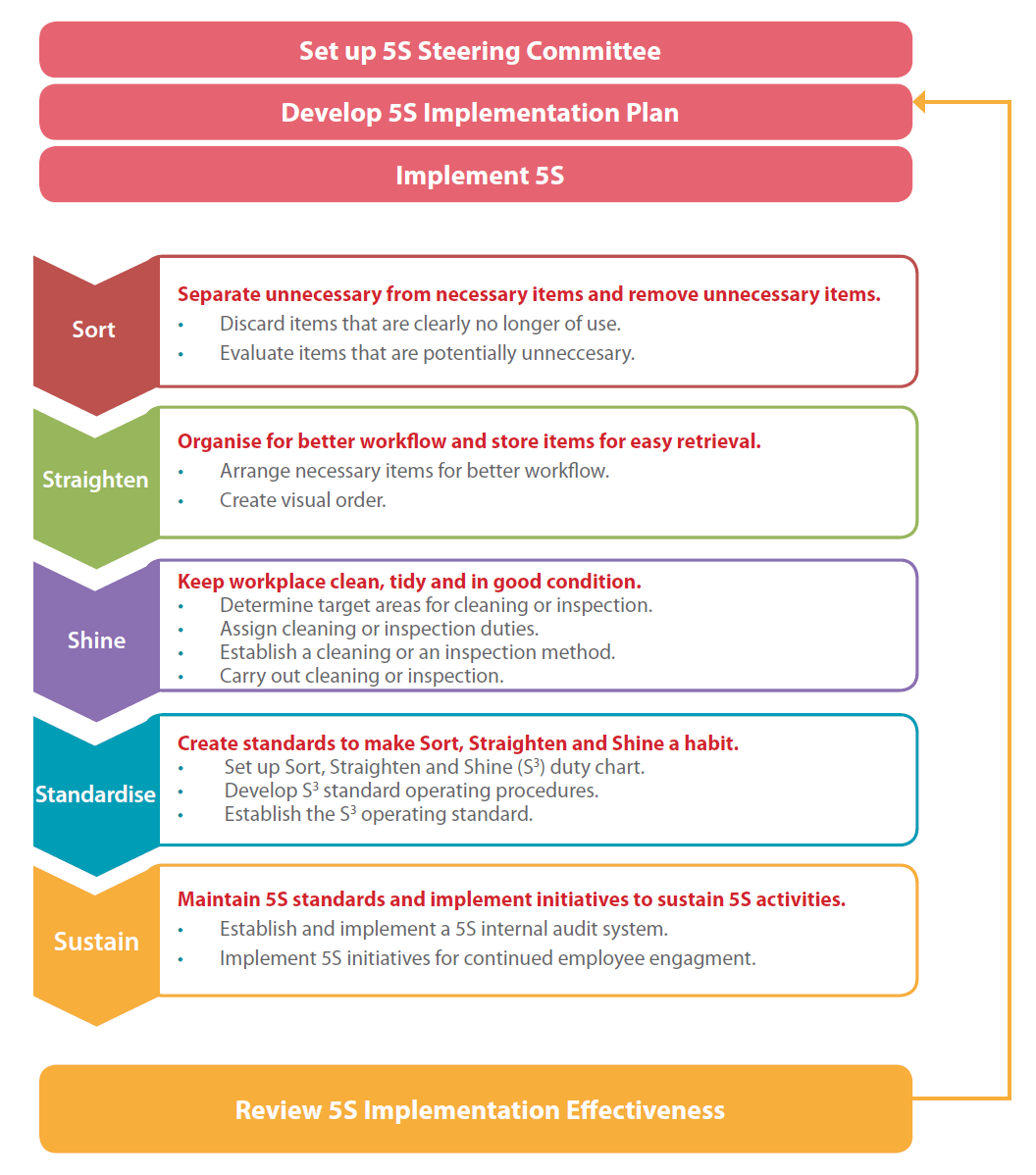 Refer to the WSH Guidelines on Workplace Housekeeping (PDF) to learn more about good housekeeping practices and 5S.
Laws and Industry Standards
As an employer, you are expected to comply with Singapore's WSH laws. You should pay particular attention to:
WSH (Risk Management) Regulations

WSH (General Provisions) Regulations

WSH (Construction) Regulations
You should also observe relevant industry standards, such as:
SS 567: Code of Practice for factory layout – Safety, health and welfare considerations

SS 531 series: Code of Practice for lighting of work places

SS 532: Code of Practice for the storage of flammable liquids
Please refer to the WSH (Approved Codes of Practice) Notification (PDF) for the full list of approved Codes of Practice.
View related resources