About Event Management
Learn about the MICE industry and its unique network of working relationships. Understand the safety and health responsibilities of the parties involved.
MICE Industry
The Meetings, Incentives, Conferences and Events (MICE) industry plays a significant role in the hospitality sector. Events range in scale and complexity, and can take place in purpose-built multi-functional halls or outdoor spaces.
Working Relationships
Event management is a complex operation that requires the execution of a wide array of activities. This is often fulfilled by multiple contractors engaged by the event management company for different aspects of the event, from venue, staging to entertainment and food catering.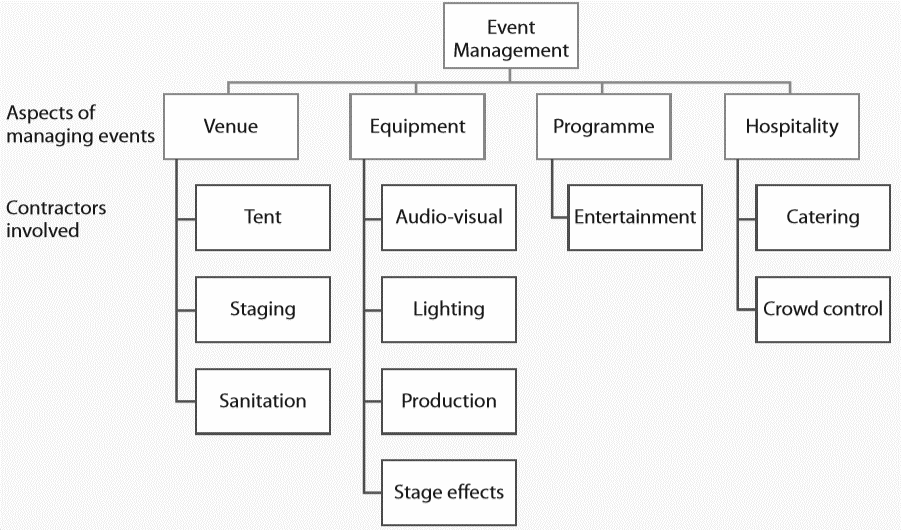 Above: Illustrative network of working relationships
Event Owners' Responsibilities
As an event owner, you should:
Ensure the venue is safe for everyone.

Ensure all machines (e.g. electric generator), equipment (e.g. lightings and sound) and substances (e.g. fog propellants) are safe for use.

Engage competent contractors.

Allocate sufficient time for contractors to complete projects safely.
Contractors' Responsibilities
As a contractor to the event owner, you are reminded to:
Conduct risk assessments for your work activities. Refer to

Risk Management

for more information.

Implement safety and health measures for any machine, equipment or substance used in the premises.

Provide workers with sufficient instruction, training and supervision.

Provide workers the necessary PPE for them to work safely.
Refer to Contractor Management for more information.


For More Information
View related resources