Return to Work Programme
Find out more about this fully claimable programme that enables injured employees to maintain their employability and return to work safely.
Programme Overview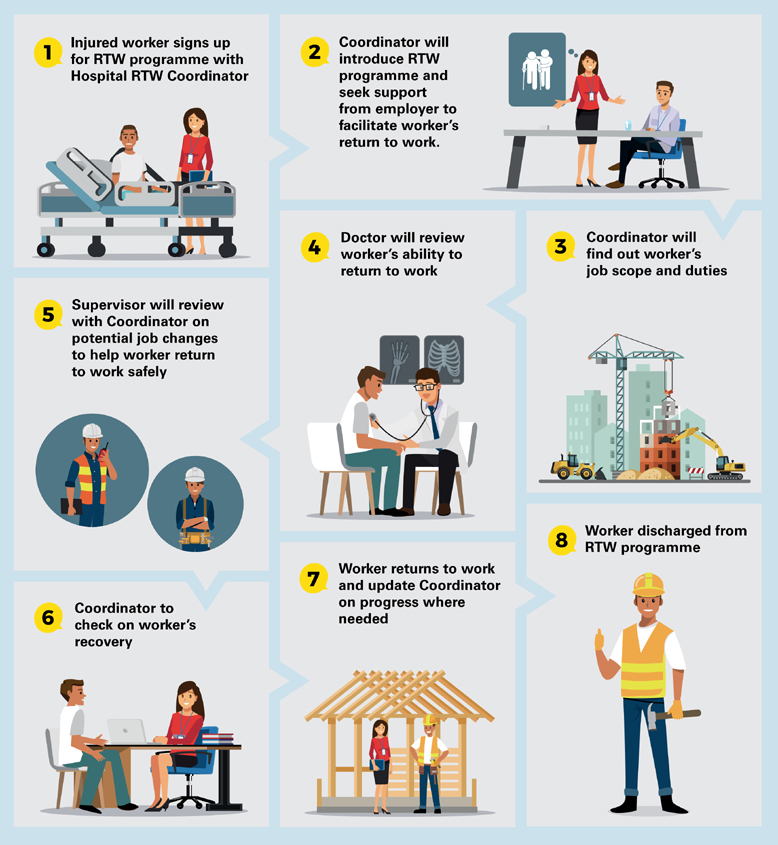 The Return to Work (RTW) programme is a 3-6 months initiative that pairs injured employees with dedicated RTW coordinators from public hospitals. This voluntary programme enables injured employees to return to work safely and as soon as possible upon the doctor's recommendation.
The programme also provides early intervention services to help injured employees regain their work ability and long-term employability so that they can continue to be productive at the workplace.
If your employee is covered under the Work Injury Compensation Act (WICA), the programme costs are fully claimable from your insurer, under WICA. If your company is a Small and Medium Enterprise (SME) and your employee's insurance payments exceed the WICA cap of $45,000, you may tap into additional funding (See Fees and Funding).
Who May Apply
You may apply for RTW if your employee meets all the following criteria:
Covered under WICA

;

Sustained a work-related injury;
Able to return to some form of work when he/she first enters the programme;
Given a minimum of 14 calendar days' medical or hospitalisation leave as a result of the injury; and
Singapore citizen, permanent resident or foreigner with a work pass valid for a minimum of 9 months. You may consider extending your foreign employee's work pass (subject to approval by Ministry of Manpower's Work Pass Division) to meet this criteria.
Note: If your employee is unable to return to his/her original role, the RTW Coordinator will discuss other options with you and your employee. This may include retraining for a new job or seeking assistance from the Ministry of Social and Family Development's Social Service Offices and the Employment and Employability Institute(e2i).
Benefits
On average, most RTW employers save $800 in medical expenses and clock 10 fewer days of medical leave in contrast to non-participants. The RTW programme can also help your company in the following ways:
Reduce costs of hiring and training new or temporary employees;
Minimise operational disruptions by keeping experienced and skilled employees;
Increase productivity with your employee returning to work earlier;
Provide reassurance of your employee's fitness to return to work;
Provide professional advice on how to reduce the risk of similar workplace accidents happening; and
Be seen as an employer of choice.
Since the end of 2019, more than 1,900 injured workers have benefitted from the programme. Find out more about how they have benefitted.
Fees and Funding
The average cost of the programme is between $600 and $1,000 per employee. This may vary, depending on how serious your employee's injury is and how long he/she takes to recover.
Under WICA, you may claim up to $45,000 from your employee's work injury compensation insurance for medical and programme costs. As costs are fully claimable, your company would not need to pay out of pocket. You may claim the following RTW programme-related costs:
Case management
Worksite assessment
Functional capacity evaluation
Psychotherapy
Please note that workplace adjustment costs (e.g. job redesigns, workplace modifications, and purchase of equipment or tools) are currently not claimable under WICA. However, you may tap into the RTW grant (DOC) if your company is an SME and you can claim $1,000 or less for 90% of the workplace adjustment cost for each RTW employee.
RTW grant details
What it covers

Up to $7,000

per employee for claimable costs.

Up to $1,000 per employee (or 90% of costs incurred, whichever is lower) for workplace adjustment costs. This includes job redesigns, workplace modifications and purchase of equipment or tools.

Who is eligible

You may apply for the RTW grant if your current employee meets all the following criteria:

Employed by an SME;
Singapore citizen, permanent resident or foreigner with a work pass valid for a minimum of 9 months;
Sustained a work-related injury within one year from the date of accident; and
Has an RTW plan endorsed by an RTW Clinician or authorised RTW Coordinator from a public hospital in Singapore.

You cannot apply for the grant if you are receiving financial aid for work injury compensation for the same accident. This includes aid from voluntary welfare organisations such as SG Enable (Open Door Programme), ABLE, SPD and Bizlink.

Who can apply

SMEs who are not receiving financial aid for the same accident from other voluntary welfare organisations such as SG Enable (Open Door Programme), ABLE, SPD, and Bizlink.
Programme Details
Watch the video below to learn how the RTW programme is implemented.
How to Apply
Please refer to our list of participating hospitals to approach your employee's treating hospital directly, or you can also email to us at rtw@wshc.sg with your employee's injury details.
Frequently Asked Questions
What is the job of a RTW Coordinator?
Engage the doctor to understand the injured worker's medical condition and determine what specialist medical support he/she needs;
Engage the employer to understand his/her job duties, identify barriers to and opportunities for recovery and getting back to work; and
Review the injured worker's work capacity and work options, develop the RTW plan and monitor his/her progress.
What are some examples of medical examinations or services the hospital may conduct for my worker?
The hospital will conduct tests or services based on your worker's needs. Refer to the table below for more information.
| | |
| --- | --- |
| Issue | Examples of medical examination or service |
| Physical injury | Physiotherapy or occupational therapy |
| Cognitive, psychosocial or post-traumatic issues | Psychiatric or psychological services |
The RTW Coordinator may also conduct assessments to see if your worker's injuries have recovered enough to meet the demands of his/her job. For example, if the worker's job involves lifting a load of 20kg at work, the RTW Coordinator may ask the worker to try lifting a load of 20kg during the assessments.
Please consult your RTW Coordinator for more details.
Is the RTW programme open to employees with medical conditions that are not work-related?
Employees with non-work-related medical conditions can opt to join the programme. However, programme expenses are not claimable from the Work Injury Compensation (WIC) insurance or the RTW grant.
My worker would like to seek medical treatment from Singapore's private hospitals. Will it affect my worker's eligibility for the RTW programme?
No, your worker's eligibility will not be affected. However, you must obtain a doctor's referral from the private hospital stating that the worker is fit to join the programme.
If my worker transfers hospitals, will it affect his/her participation in the RTW programme?
No, the worker can continue the programme in the subsequent hospital. To transfer to another hospital, the worker may make the request by informing the hospital and getting the doctor's referral.
For more information
WSH Council will be conducting a Webinar (with repeat runs) to share with employers about the Return to Work Programme. Please register for the Webinar. For more information on the RTW Programme, email rtw@wshc.sg or contact any of the participating hospitals directly.
View related resources