Return to Work Programme
Find out more about this fully claimable programme that enables injured employees to maintain their employability and return to work safely.
Programme Overview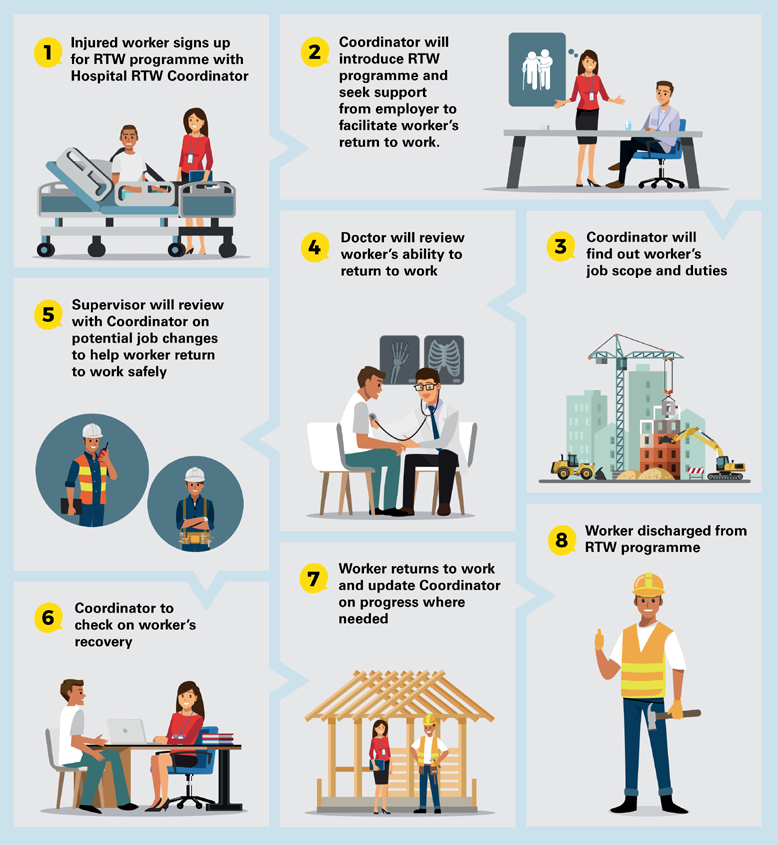 A workplace injury can be devastating for your employee and adds cost to your business operations such as reduced productivity, medical expenses, medical leave wages, and cost of re-hiring and re-training.
The Return to Work (RTW) programme is a voluntary programme that helps your injured employee returns to work safely during his recovery period and assists you in making adjustments to the workplaces and jobs to facilitate the rehabilitation of your injured employee.
RTW Coordinators are healthcare professionals trained to provide personalised case management and early intervention services to help injured employees regain their work ability and return to work safely and as soon as possible, upon the doctor's recommendation.
The programme covers:
Case Management
Assessment of the employee's condition and fitness to work
Worksite Assessment and Functional Capacity Evaluation (if needed)
Personalised RTW plan and training to prevent re-injury
Recommendation of modified work duties
Who May Apply
You may apply for the RTW Programme if your employee meets the following criteria:
Sustained a work-related injury and is covered under the Work Injury Compensation Act (WICA)

;

Able to return to some form of work when he/she first enters the programme;
Given a minimum of 14 calendar days' medical or hospitalisation leave as a result of the injury; and
Singapore citizen, permanent resident or foreigner with a work pass valid for a minimum of 9 months. You may consider extending your foreign employee's work pass (subject to approval by Ministry of Manpower's Work Pass Division) to meet this criteria.
If your employee is unable to return to his/ her original role, the RTW Coordinator will discuss other options with you and your employee. This may include retraining for a new job or seeking assistance from the Ministry of Social and Family Development's Social Service Offices and the Employment and Employability Institute(e2i).
Benefits
On average, most RTW employers save $800 in medical expenses and clock 10 fewer days of medical leave wages in contrast to non-participants. The RTW programme can also help your company in the following ways:
For Employees
Feel better taken care of

Resume work duties safely step by step and prevent re-injury

Avoid pay cut due to extended medical leave
For Employers
Employees will return to work earlier

RTW Programme costs are fully claimable under Work Injury Compensation insurance

Get professional advice on how to prevent future workplace injuries

Cost savings in terms of medical leave wages, insurance premiums, costs of re-hiring/ re-training

Minimise productivity loss with worker on light duty

Be seen as an employer of choice
To date, more than 3,700 injured workers have benefitted from the programme. Find out more about how they have benefitted.
Fees and Funding
The RTW Programme costs between $600 and $1,000 per employee*, and is fully claimable from your insurer if your employee is covered under the Work Injury Compensation Act (WICA), your company would hence not need to pay out of pocket.
(*Actual programme expenses and duration may vary depending on the complexity of employee's injury and recovery period)
Under WICA, you may claim up to
$45,000
from your employee's
work injury compensation insurance
for medical and programme costs, of which the following RTW programme-related costs can be claimed:
Case management
Worksite assessment
Functional capacity evaluation
Psychotherapy
Programme Details
Watch the video below to learn how the RTW programme is implemented.
How to Apply
Please contact these participating hospitals with your employee's injury and insurance details.
Frequently Asked Questions
What is the job of a RTW Coordinator?
Engage the injured worker to understand the job risks, review his/ her work capacity and work options, develop the RTW plan and monitor his/her progress.

Engage the doctor to understand the injured worker's medical condition and his/ her fitness to work;

Engage the employer to provide recommendations on adjusted job duties or conditions, identify barriers to and opportunities for recovery and getting back to work; and
What are some examples of medical examinations or services the hospital may conduct for my worker?
The hospital will conduct tests or services based on your worker's needs. Refer to the table below for more information.
| | |
| --- | --- |
| Issue | Examples of medical examination or service |
| Physical injury | Physiotherapy or occupational therapy |
| Cognitive, psychosocial or post-traumatic issues | Psychiatric or psychological services |
The RTW Coordinator may also conduct assessments to see if your worker's injuries have recovered enough to meet the demands of his/her job. For example, if the worker's job involves lifting a load of 20kg at work, the RTW Coordinator may ask the worker to try lifting a load of 20kg during the assessments.
Please consult your RTW Coordinator for more details.
Is the RTW programme open to employees with medical conditions that are not work-related?
Employees with non-work-related medical conditions can opt to join the programme. However, programme expenses are not claimable from the Work Injury Compensation (WIC) insurance.
My worker would like to seek medical treatment from Singapore's private hospitals. Will it affect my worker's eligibility for the RTW programme?
No, your worker's eligibility will not be affected. However, you must obtain a doctor's referral from the private hospital stating that the worker is fit to join the programme.
If my worker transfers hospitals, will it affect his/her participation in the RTW programme?
No, the worker can continue the programme in the subsequent hospital. To transfer to another hospital, the worker may make the request by informing the hospital and getting the doctor's referral.
For more information
For more information on the RTW Programme, please contact any of the participating hospitals directly.
View related resources