To ensure continual improvements in workplace safety and health, a key strategy is to inculcate a strong sense of WSH ownership among all employees. The iOwnWSH survey tool was developed by the Workplace Safety and Health Institute, in collaboration with the Centre for HEalthy and Sustainable citieS (CHESS), a research centre under the Wee Kim Wee School of Communication and Information (WKWSCI), Nanyang Technological University (NTU) through a multi-year study. The objective of this tool was to help companies assess their level of WSH ownership among the management staff, supervisors and workers. Besides tracking and assessing the improvement efforts, the tool also provides suggested development areas and other recommendations for which companies can strengthen their WSH Ownership.
WSH Ownership Model
The employee-centric WSH Ownership Model is made up of three levels: individual, cultural and organisational. The three components that drive WSH Ownership are:
•
Safety Climate
: Employees' shared perceptions towards safety-related policies, procedures and practices.
•
Safety Citizenship
: Employees' behaviours that support safety in the company.
•
Social Contract
: The communication and informal/unwritten commitment between workers, supervisors, and management towards safety.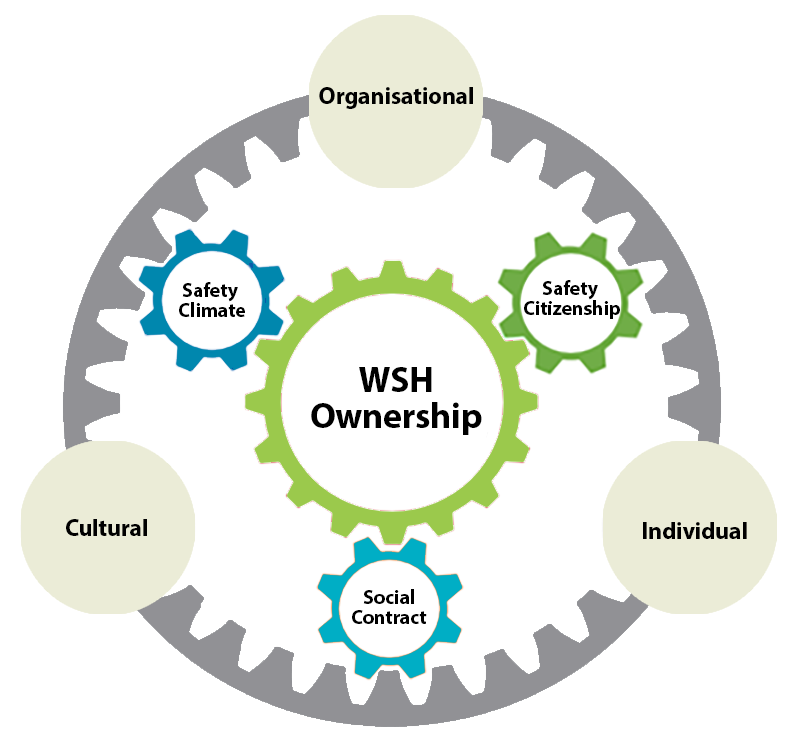 The iOwnWSH comprises 48 main and 10 demographics questions, covering these 3 components as well as the following 7 factors which will influence WSH Ownership:
i)
WSH Policies and Regulations
: Presence of safety rules, policies and regulations in the workplace; this reflects the company's commitment to safety.
ii)
Commitment to Health
: The leader's explicit consideration of and engagement in employee health.
iii)
Organisational Climate
: Quality of superior-subordinate relationships.
iv)
Team Climate
: Team members' common perceptions towards safety policies, procedures, and practices.
v)
Attention-to-Work Activities
: How focused are the employees in following instructions, listening carefully to instructions, and performing work activities without being easily distracted.
vi)
Attitudes Towards Safety Activities
: Degree in which employees comply with safety procedures and participate in improving working conditions.
vii)
No-blame Culture
: A culture that promotes honesty, openness and respect where employees feel safe to speak out.