CultureSAFE
Find out how CultureSAFE can help your company understand and cultivate a progressive WSH culture.​
Programme Overview
CultureSAFE is a free, voluntary tool designed to help your company to:
Understand the state of its workplace safety and health (WSH) culture
Cultivate a progressive WSH culture.
WSH Culture: Why Build It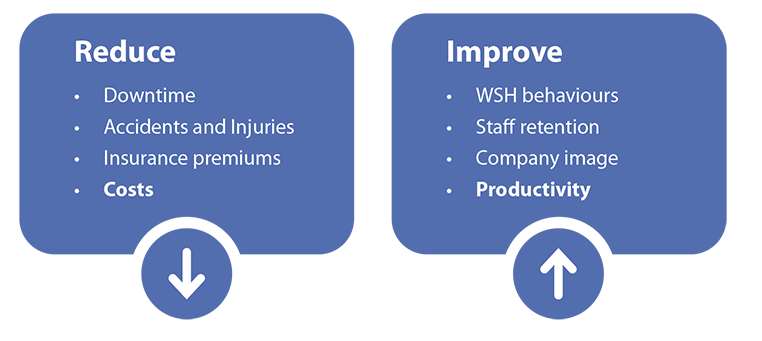 Risks
Many companies have the idea that a comprehensive set of safe operating procedures is the same as good workplace safety and health management. Safe operating procedures are insufficient as WSH considerations tend to stop once they are put in place.

For example, without a strong WSH culture:
Unmotivated workers may play a cat and mouse game with the management, and follow safe operating procedures only when they are under watchful eyes;
Supervisors may have no incentive to lead positively by example; and
New workers may not be sufficiently trained.
This can lead to increased costs due to downtime, accidents and injuries, and higher insurance premiums.

Benefits
A strong WSH culture promotes more than safety and health. It boosts productivity through improved staff retention, staff confidence and WSH behaviours.

A strong WSH culture reinforces and sustains your WSH efforts. It has the greatest impact on reducing workplace accidents.
5-step CultureSAFE Cycle
The diagram below illustrates the 5-step CultureSAFE cycle. You are encouraged to sustain WSH culture building by implementing this cycle continuously.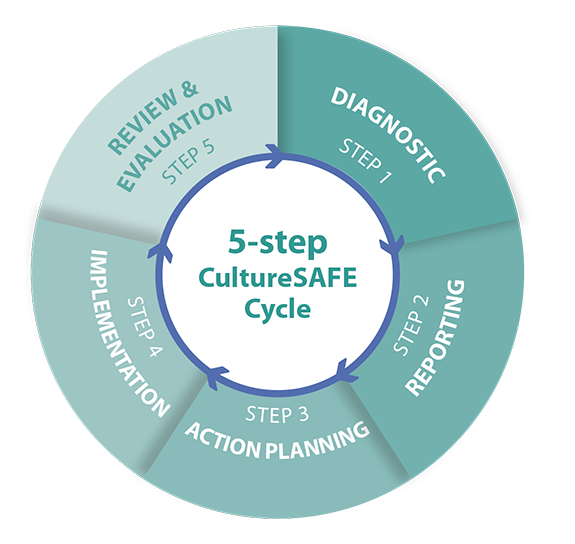 The cycle starts with a diagnosis and report of your company's existing culture. This is followed by action planning to improve your company's WSH culture. Once you have completed the implementation of your action plan, you will review and evaluate your implementation for further improvement.
CultureSAFE Self-Help Tool Kit
Who can use the kit?

We welcome all companies who wish to build a safe and healthy working culture to sustain their WSH performance

A strong WSH culture helps companies to:
Reduce workplace accidents;
Boost productivity and employee's confidence; and
Promote the adoption of safe operating procedures.
How can I get started?

Download the CultureSAFE Self-Help Tool Kit which contains:
A step-by-step guide on how to perform the CultureSAFE perception survey for Step 1: Diagnostic
A Report Generator to generate the CultureSAFE Index Scores for Step 2: Reporting;
Guidance on how to do Step 3: Action Planning, Step 4: Implementation, and Step 5: Review and Evaluation; and
Other useful resources such as hardcopy survey questionnaires, initiatives to improve WSH culture, engagement slides in PowerPoint format and an Evidence-Based Assessment form.
View related resources