WAH Symposium 2021 Managing Work at Heights in the New Normal
17 Mar 2021 Symposium Past Event Work at Height Construction and Landscape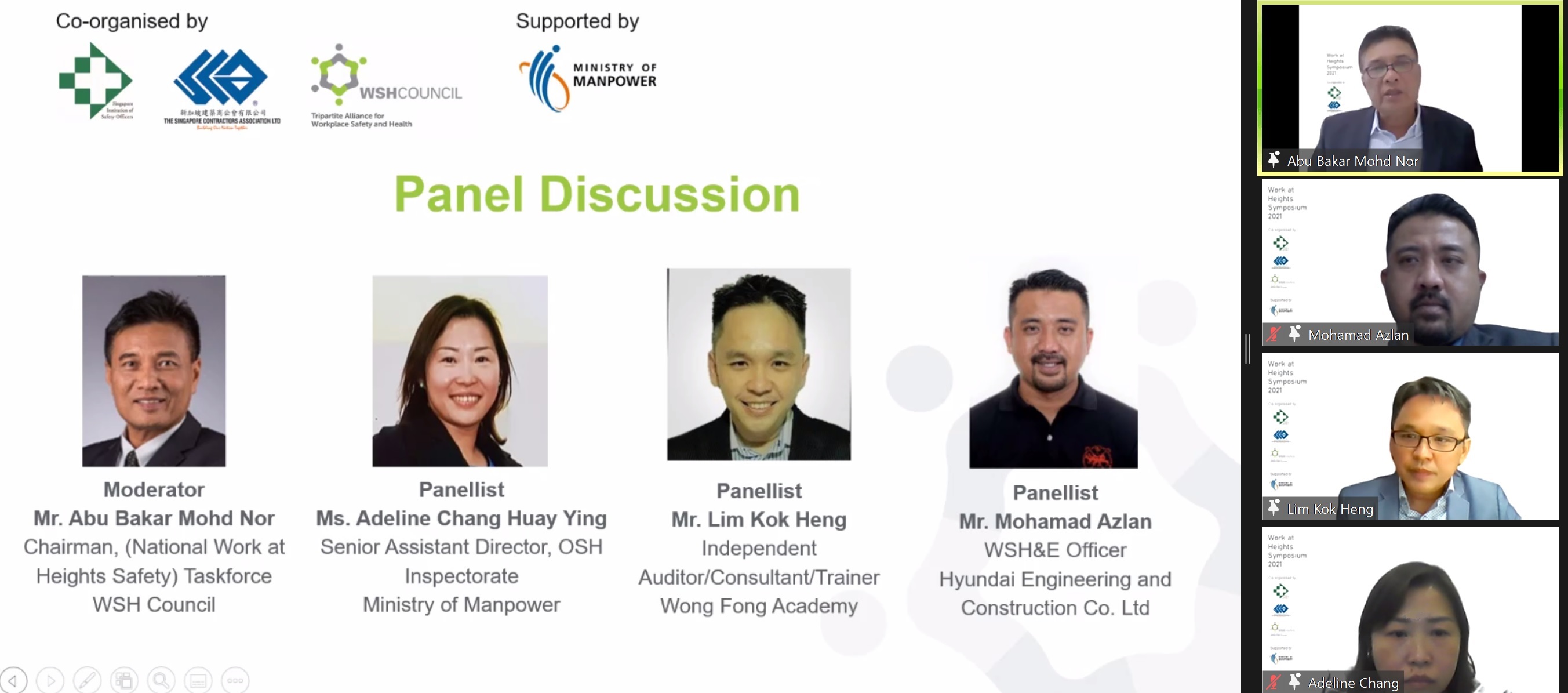 Date:

04 Mar 2021 - 05 Mar 2021

Time:

9:30 AM - 11:30 AM

Location:

Zoom

Spots Available:

500

Event resources:

Added
(Jump to event resources)
WAH Symposium 2021 reminds all on managing work-at-height safety in the new normal

The Work at Heights Symposium 2021 was held on 4 March 2021 with the aim of reminding the industry the importance of working safely at height, and how businesses could manage work-at-height (WAH) safety in the new normal.

The two-day virtual event was attended by more than 500 participants, with speakers sharing WAH statistics and enforcement findings, the importance of well-being for WAH safety, and how WAH hazards can be eliminated through technology.

In his opening address, Mr John Ng, Chairman of the WSH Council, reminded stakeholders of the recent spate of workplace fatalities in February, which saw the highest number of recorded fatalities since 2016 at 11 deaths. He called upon the industry to remain vigilant and conduct a Safety Time-Out especially on the use of machinery, and to review all existing WSH provisions and address any potential lapses, so that workers can go home safe and sound to their families.

Ministry of Manpower shared enforcement findings, common infringements and case studies related to falls from height. Speaker from Wong Fong Academy shared insights on Total Workplace Safety and Health, and how companies should adopt a holistic approach in order to better achieve WSH improvements. Speaker from Hyundai Engineering & Construction Pte Ltd also shared the company's innovative project that won them the WSH Innovation Award last year. It not only eliminated work-at-height hazards but achieve productivity gains and monetary savings for the company.

The Symposium ended with an interactive panel discussion moderated by Mr Abu Bakar Mohd Nor, Deputy Chairman of the WSH Council. He summarised the session in his closing remarks and urged the industry to have an ingrained ownership for better WSH outcomes, not lose sight on workers' health in light of the pandemic, and leverage more on technology and innovation while improving productivity.

On the second day, two workshops were organised by the Singapore Institution of Safety Officers (SISO) and Singapore Contractors Association Limited (SCAL) focusing on WSH professionals and management professionals, respectively. Participants learnt about practical WAH control measures to implement at workplaces and organisational models to address systems and processes relating to WAH safety.

The event was co-organised by the WSH Council, SISO and SCAL, and supported by the Ministry of Manpower.
Please view the programme and the speeches on 4 Mar 2021:
Opening Address by Mr John Ng Chairman WSH Council at the Work at Heights Symposium 2021
Closing Remarks by Mr Abu Bakar Bin Mohd Nor Deputy Chairman WSH Council at the WAH Symposium 2021
View related resources