WSH Forum for Waste Management Industry 2023
05 Dec 2023 Forum Past Event Cleaning and Custodial Services Facilities Management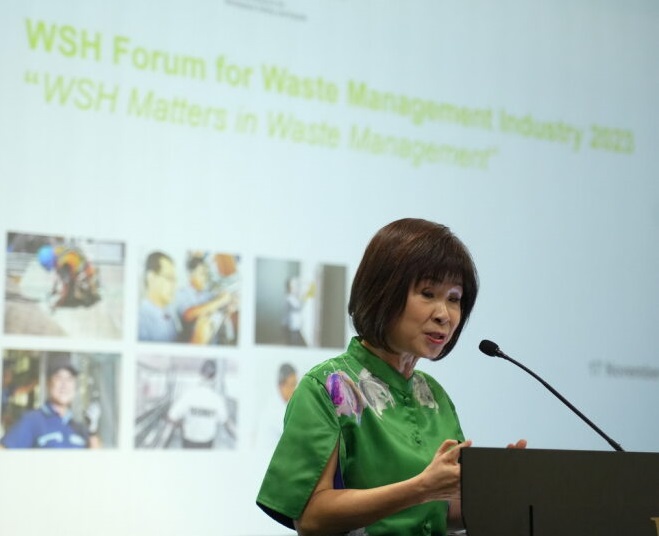 Date:

17 Nov 2023

Time:

9:30 AM - 12:00 PM

Location:

Sands Expo & Convention Centre


Spots Available:

250

Event resources:

Added
(Jump to event resources)
The Waste Management & Recycling Association of Singapore (WMRAS) and Workplace Safety and Health (WSH) Council held the inaugural WSH Forum for Waste Management Industry on 17 November 2023.

With the theme "WSH Matters in Waste Management", the event saw over 200 participants learn best practices and updates to ensure the safety and well-being of waste management workers.

Dr Amy Khor, Senior Minister of State for Sustainability and the Environment, graced the event and shared Singapore's commitment to attain a 20% reduction in waste-to-landfill per capita per day by 2026 under the Singapore Green Plan 2030. As we strive to achieve this goal, waste management workers are exposed to a wide range of hazards during their work, such as physical and mechanical risks that come with operating vehicles and machinery, to exposure to biological and environmental risks from waste collected from post-consumer, commercial and industrial activities.

Dr Khor called on companies to implement the necessary safety precautions and measures to safeguard workers' physical and mental well-being. Risks assessments should be done, and proper safe work procedures established. Workers should be provided with adequate WSH training and appropriate personal protective equipment. There should also be an internal system for reporting safety lapses so that rectifications can be carried out promptly. Doing so can build a culture of safety and instil a greater sense of safety ownership for workers.

To assist the industry, the "WSH Guidelines for General Waste Management" was launched at the event. Developed by WMRAS in partnership with the WSH Council and supported by tripartite partners, the Guidelines provides practical WSH guidance for waste collectors and enhances their WSH knowledge to carry out waste collection safely.
View related resources