WSH Webinar for Town Councils 2022
14 Jun 2022 Forum Past Event Cleaning and Custodial Services , Slips, Trips and Falls , Work at Height Facilities Management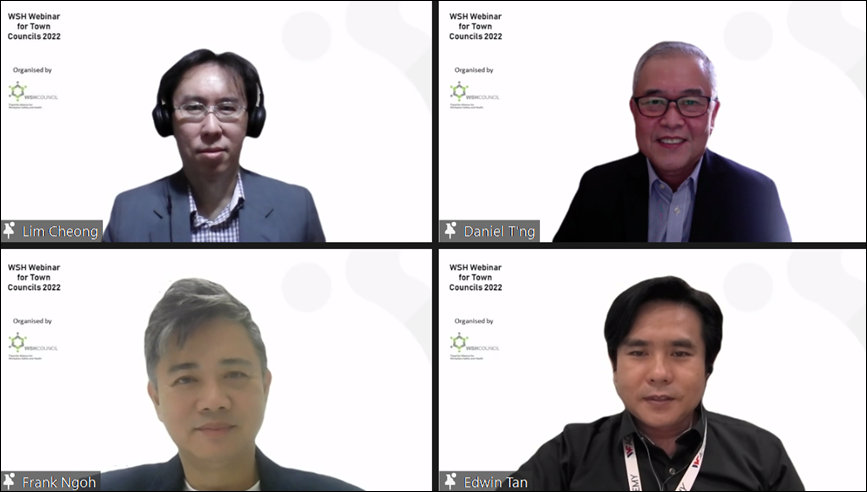 Date:

10 Jun 2022

Time:

2:30 PM - 4:00 PM

Location:

Zoom

Spots Available:

120

Event resources:

Added
(Jump to event resources)
WSH Webinar for Town Councils 2022 Highlighted Importance of Fall from Height and Slips, Trips and Falls Prevention
The WSH Webinar for Town Councils is the Workplace Safety and Health (WSH) Council's annual engagement with Town Councils on the latest WSH developments affecting estates and township management. This year's webinar placed greater emphasis on workers' health and safety, and enhancing Fall from Height (FFH) and Slips, Trips & Falls (STF) prevention awareness.
In his
opening address, Mr Daniel T'ng, Chairman of the WSH Council (Facilities Management) Committee
, called attention to the recent spate of workplace fatalities. A significant number of these fatalities were due to FFH, STF and Unsafe Use of Machinery. Also, there is an upward trend in the number of non-fatal FFH and STF injuries, which Town Council workers are exposed to in their daily work. He reiterated the importance for Town Councils to use proper equipment and adopt technology solutions that can enhance safety and health outcomes for these workers.
The Ministry of Manpower shared several accident case studies and the requirements in the Approved Code of Practice SS EN 131 series to heighten ladder safety awareness, while Wong Fong Academy shared tips on how better health as well as physical and mental wellbeing can reduce STF risks. Tampines Town Council also demonstrated how harnessing technology and robotics can lead to better safety, productivity, and sustainability outcomes in township management.
The event concluded with a Q&A session with lively exchanges between the participants and panelists.
View related resources