WSH Webinar for Town Councils 2021
23 Nov 2021 Forum Past Event Cleaning and Custodial Services , Slips, Trips and Falls Facilities Management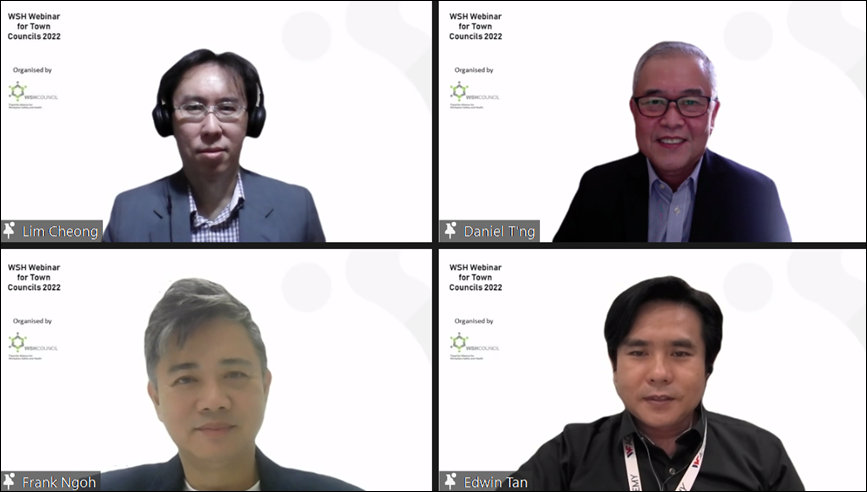 Date:

23 Jul 2021

Time:

2:30 PM - 4:00 PM

Location:

Zoom

Spots Available:

100

Event resources:

Added
(Jump to event resources)
WSH Webinar for Town Councils 2021 highlights importance of STF prevention
The WSH Webinar for Town Councils 2021 took place on 23 July 2021. It is an annual engagement by the Workplace Safety and Health (WSH) Council with the Town Councils. Aimed at helping the Town Councils place greater emphasis on workers' health and safety, and enhancing Slip, Trip and Fall (STF) prevention awareness, the event highlighted the latest WSH developments on various issues in estates and township management. Close to 100 representatives from the 17 Town Councils attended the webinar.
In her opening address, Ms Aileen Tan, Co-Chairperson of the WSH Council (Facilities Management) Committee, highlighted that STFs were the top cause of non-fatal workplace injuries nationally, accounting for about one-third of all workplace injuries. For the cleaning and landscape maintenance industry, STFs were similarly the top cause of injuries in recent years with a 13% increase from 2019 to 2020. She reiterated the importance for Town Councils to take ownership of workers' physical and mental health by engagement and education.
The Ministry of Manpower elaborated the role that Town Councils play under the WSH Act, detailing their responsibilities, and shared several case studies. Speakers from the WSH Council also presented practical STF prevention tips and resources that Town Councils could tap into, and the Return To Work programme that helps injured employees to maintain their employability and return to work safely.
The event concluded with a lively Q&A session, and participants were invited to "Take Time to Take Care" of their safety and health by adding "Care Time" to their phone's calendar. The Town Councils were also encouraged to set an STF Resolution to prevent STF injuries at the workplace.
Participants gave feedback that the topics and the training resources provided were a good reminder for the Town Councils to strengthen workplace safety alongside pandemic prevention measures and prevent injuries of their workers and contractors.
Download the
STF infographic poster for the Cleaning and Security Industries
. To find out more about setting a company's STF Resolution, visit the
STF Campaign 2021 webpage
.
View related resources