Construction WSH Leadership Dialogue 2021
18 Nov 2021 Forum Past Event Slips, Trips and Falls Construction and Landscape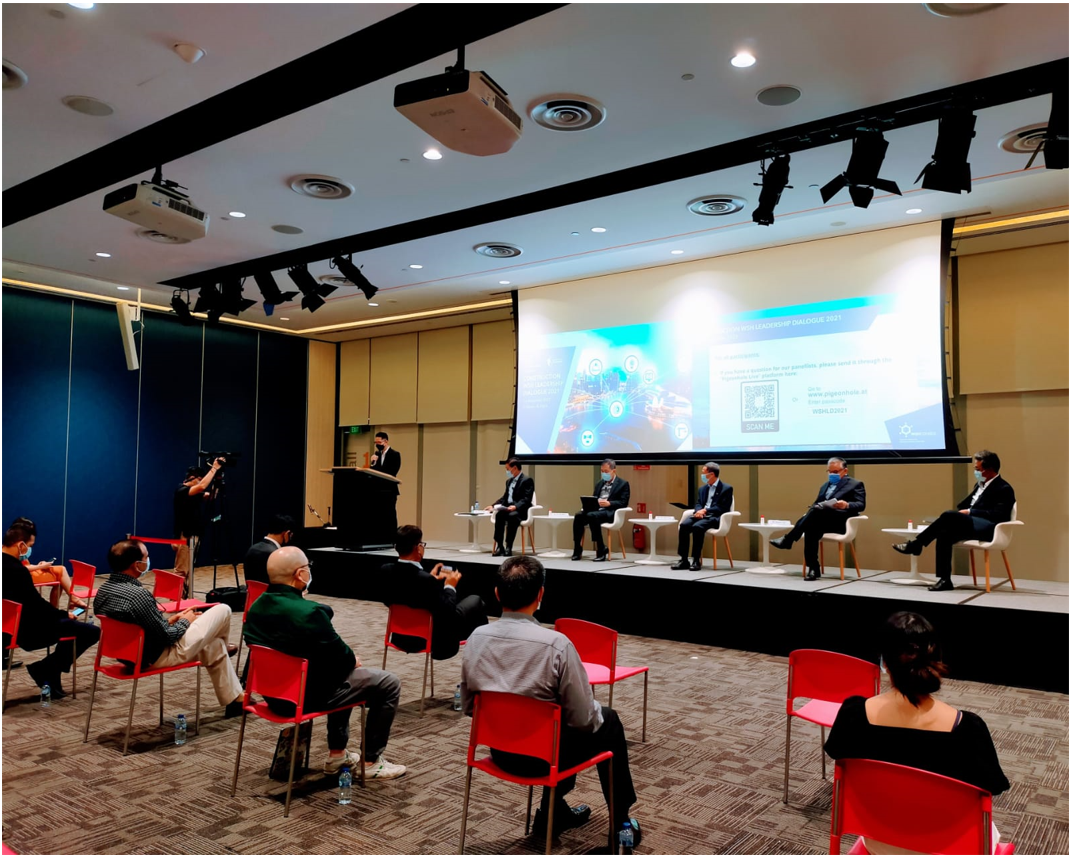 Date:

16 Nov 2021

Time:

3:00 PM - 4:30 PM

Location:

Zoom

Spots Available:

500

Event resources:

Added
(Jump to event resources)
Industry leaders gathered at construction industry dialogue committed to improve WSH outcomes
On 16 November 2021, over 300 industry professionals attended the Construction WSH Leadership Dialogue 2021 which was held at the Devan Nair Institute and broadcasted online via a webinar to emphasise the importance of WSH leadership and being resilient in challenging times.
Reminding participants not to take workplace safety and health (WSH) for granted, Deputy Chairman of the WSH Council, Mr Abu Bakar bin Mohd Nor, said in his opening address, "Leadership and ownership are key tenets to a safe workplace and healthy workforce." This is especially so as the year-end festive period is approaching, where in the past, there was a higher occurrence rate of accidents.
The Dialogue on "WSH Leadership for a COVID-Resilient Industry", moderated by Mr Yam Ah Mee, Chairman of the WSH Council (Construction & Landscape) Committee, was an open and lively discussion as attendees, both onsite and online, weighed in their thoughts through a virtual interactive module. Key insights from the discussion included:
•
Leadership is vital to having strong WSH culture in the organisation. Senior management must be committed and take ownership of WSH before they can truly understand and appreciate the need for safe work procedures. Doing so will result in adequate resources invested towards safety and health.
•
WSH knowledge should not only be ingrained amongst senior management, but also inculcated in the project managers. By going upstream to these levels, WSH officers and coordinators on the ground can be more effective and empowered to do their job.
•
Improved WSH practices could also result in increased productivity. In view of the manpower crunch due to COVID-19, certain roles can be combined and undertaken by one person, but without compromising safety.
Mr Yam closed the Dialogue by urging the construction industry stakeholders to remain united and committed to help Singapore achieve our WSH 2028 fatality rate target of less than 1.0 per 100,000 workers.
During the
National WSH Campaign
rally, attendees learned more about how to set aside time to care for their safety and health and to create their company's
STF Resolution
.
Read
Opening Address by Mr Abu Bakar bin Mohd Nor at the Construction WSH Leadership Dialogue 2021
.
Read
Closing Remarks by Mr Yam Ah Mee at the Construction WSH Leadership Dialogue 2021
.
Download resources below to help you work safely.
View related resources