The Singapore WSH Conference 2022
16 Aug 2022 Conference Upcoming Event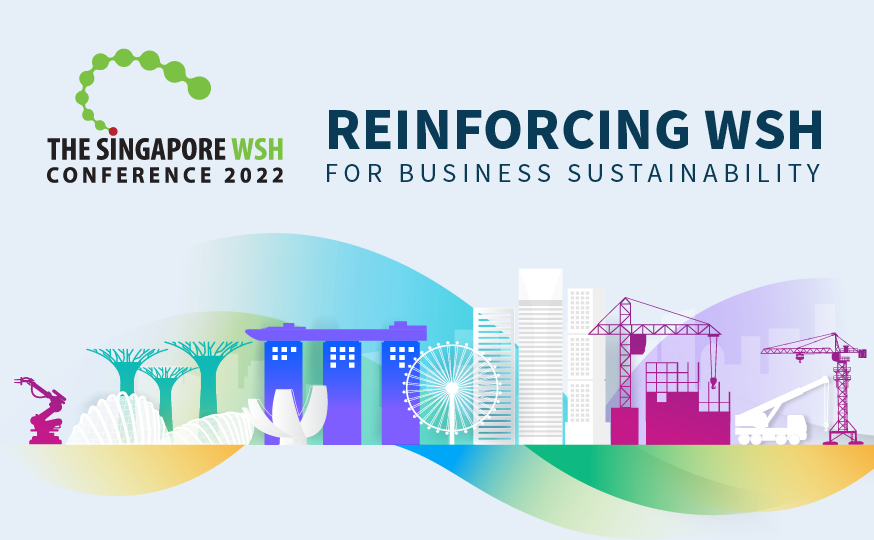 Date:

19 Sep 2022 - 20 Sep 2022

Time:

9:00 AM - 5:30 PM

Location:

Singapore Expo

Spots Available:

1000
Reinforcing WSH for Business Sustainability
The impact of COVID-19 on human health is abating, but economies are still coping with the knock-on effects of the pandemic and the Ukraine crisis, such as rising costs, supply chain bottlenecks, pressing deadlines and manpower constraints. Some of these factors will adversely affect WSH as well. It may be no coincidence that Singapore is facing a near-term uptick in workplace fatalities.
Despite the immediate challenges, we need to look to the future to fulfil our WSH2028 goals, and reinforce how WSH is good for business sustainability.
Join us at The Singapore WSH Conference 2022, where you will hear WSH thought leaders, industry experts and practitioners share their views and experiences on why companies should continue to invest in improving WSH, and how WSH can be good for business.
Conference Programme
Please refer to the
Announcement Flyer for the preliminary Singapore WSH Conference 2022 programme
.
Fuller details on the Conference programme and our full line-up of speakers will be available soon.
Conference Pass Purchase
We encourage participants to attend the Conference in-person, for face-to-face networking and interaction with leaders and friends in the WSH community. A buffet lunch and two tea breaks will be provided on each Conference day.
Only in-person
tickets are available now, at early bird rates.
Early Bird Rates (until 12 August 2022)
Individual
S$500 per participant
Group (Four participants or more)
S$400 per participant
If it is not possible for you to attend in-person, a virtual option will be available from 13 August onwards. Passes for the virtual conference are available
only for organisations that purchase at least one Regular-priced in-person Pass
.
One Regular-priced in-person Pass entitles the organisation to purchase
up to five virtual Passes
in the same bundle.
Virtual Passes cannot be purchased on a standalone basis (without being bundled with a Regular-priced in-person Pass).
Regular Rates (from 13 August 2022 onwards)
Individual
S$800 per participant
Group (Four participants or more)
S$550 per participant
Virtual (up to five Passes, with purchase of every
Regular-priced
in-person Conference Pass;
not available with Early Bird Conference Passes
)
S$250 per participant

Register for The Singapore WSH Conference 2022
now!
Early bird rates end 12 August 2022.
Earn accreditation points (upon full attendance at the Conference, or in meeting requirements set by the respective associations). Please see table below for details.
| | |
| --- | --- |
| Organisation | Accreditation Points |
| Institute for Human Resource Professionals (IHRP) | 16 CPD points |
| Professional Engineers Board (PEB) | 11 PDU points |
| Singapore Institution of Safety Officers (SISO) | 11 SDU points |
| Singapore Pharmacy Council (SPC) | 8 CPE points |
For enquiries and more information on the Conference, please email to
enquiry@singaporewshconference.sg