The Singapore WSH Conference 2020
17 Nov 2020 Conference Past Event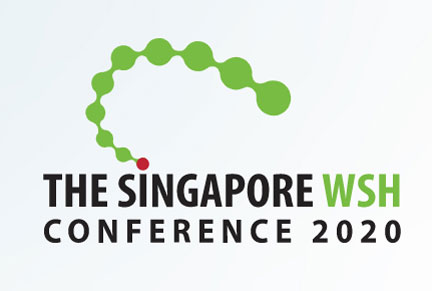 Date:

17 Nov 2020 - 18 Nov 2020

Time:

1:00 PM - 6:00 PM

Location:

https://singaporewshconference.sg/

Spots Available:

1800

Event resources:

Not Added Yet
Thank you for making The Singapore WSH Conference 2020 a success!
We are immensely appreciative that over 1,800 participants from Singapore and across the Asia Pacific, including Japan, South Korea, and Australia, have given their support in attending the sixth edition of The Singapore WSH Conference.

There is little doubt that the importance of workplace safety and health, especially in terms of our employees' wellness, safety, and mental well-being, has come to the fore in 2020, and will become an integral part of the workplace for years to come.

Mr John Ng, Chairman of the Workplace Safety and Health (WSH) Council, delivered the Welcome Address, setting the stage for two days of enlightening and passionate discussions led by richly experienced and esteemed speakers. He said, "It is precisely in times like this, that we need to collectively share and impart new knowledge to each other and gain valuable insights into seamlessly implementing good WSH practices with Safe Management Measures (SMM). Only then, can we emerge stronger from this crisis to take on greater challenges ahead."

During the Opening Address, Mrs Josephine Teo, Minister for Manpower and Second Minister for Home Affairs, reiterated that "it is now more crucial than ever for everyone to step up in the areas of workplace health, technology and ownership" as we have "witnessed how a public health crisis can cripple businesses and economies". She stressed on the importance of employers taking care of their employees' mental well-being and ensuring that they have adequate rest outside work hours. She also encouraged companies to adopt technology in advancing WSH outcomes and everyone "to personally own WSH" and make WSH their way of life.

In his Keynote Speech, Nuseir Yassin, CEO of Nas Daily, spoke of how people and businesses are naturally co-dependent – one cannot function without the other – thus the relationship needs to be nurtured. He touched on topics close to the hearts of everyone: safety and security; purpose and trust; care, empowerment and sustainability.

Participants were highly engaged during the 2-day Conference, actively participating in live Q&A sessions with their continuous stream of questions for the speakers who generously shared from their rich experience and deep industry knowledge of ownership, technology, and health.

At Plenary 4: Tripartite Panel Discussion, there was much discussion as to how we live and work amidst a pandemic and draw lessons from the pandemic to better prepare our workforce for the future of work. The panel touched on digital transformation such as the use of technology to enable remote working, and how new technology such as automation can bring in new WSH challenges; and delved into how businesses can help employees work from home. The pandemic has also pushed regulators to re-examine their policies for labour relations and manpower to help businesses regain a solid footing.

The panel discussed ways to safeguard employees, the need to reimagine and redefine work while "living" with COVID-19, and how things can be done differently to ensure that employees are safe, healthy, and productive as work resumes. The panellists from MOM, WSH Council, NTUC and SNEF also spoke of what can be done to strengthen our workforce's mental resilience in managing productivity and balancing it with mental well-being.

Mr Zaqy Mohamad, Senior Minister of State for Manpower, closed the Conference, stressing on the importance of enhancing the workers' mental health. He underscored what speakers like Professor David Chan, Director of the Behavioural Sciences Institute at SMU, had shared during the Conference, that "stress and strain associated with the COVID-19 crisis can be addressed through rearrangement and redesign of job duties and work processes". This not only contributes to the workers' physical and mental well-being, but also work productivity, and better quality of life, both at work and outside work.

Mr Zaqy also described how the International Advisory Panel for Workplace Safety and Health has called for greater accountability by company leadership, supporting the development of an Approved Code of Practice to educate and engage company directors on their responsibilities and the ways to ensure WSH risks are effectively managed.

Read welcome address by Mr John Ng, Chairman of WSH Council.

Read opening address by Mrs Josephine Teo, Minister for Manpower.

Read closing address by Mr Zaqy Mohamad, Senior Minister of State for Manpower.