Launch of the National WSH Campaign 2022
29 Apr 2022 Ceremony Past Event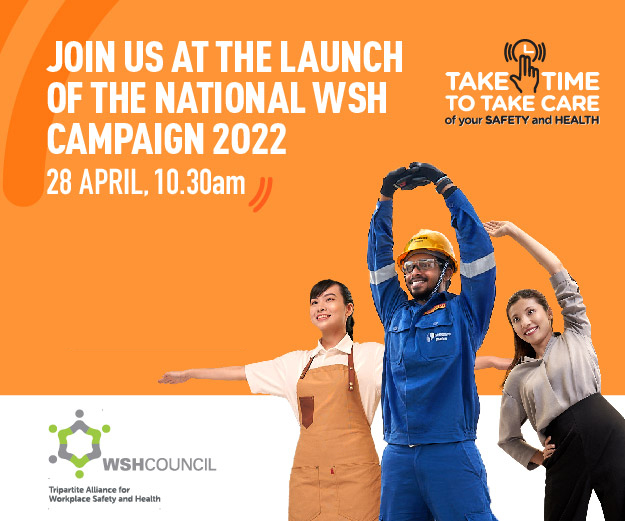 Date:

28 Apr 2022

Time:

10:30 AM - 11:30 AM

Location:

Zoom

Spots Available:

1000

Event resources:

Added
(Jump to event resources)
The National WSH Campaign was launched on 28 April 2022 in a hybrid format where 294 people attended the event in person, while 515 members of the industry and the public joined the campaign activities virtually.
Organised by the WSH Council and supported by the Ministry of Manpower, National Trades Union Congress and Singapore National Employers Federation, the annual year-long Campaign aims to rally everyone – employers and employees – to "Take Time to Take Care" of their safety and health at work through a fun and energising National WSH Campaign Workout.
The Campaign launch programme was as follows:
• Welcome Address by Mr John Ng, Chairman of the WSH Council
• Opening Address by Mr Zaqy Mohamad, Senior Minister of State for Manpower
• Launch of National WSH Campaign 2022
• Commencement of onstage campaign activities:
- Screening of Campaign music video
- National WSH Campaign Workout
- Health Talk on Physiotherapy Tips: Office and Industrial Ergonomics
- Quiz
Visit the National WSH Campaign webpage to find out how you can participate in the National WSH Campaign 2022 and check out the Campaign microsite at www.taketimetotakecare.sg on steps to keep yourself active and alert.
View related resources