bizSAFE Convention 2022
19 Jan 2023 Ceremony Past Event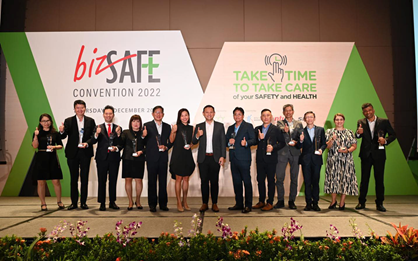 Date:

08 Dec 2022

Time:

10:00 AM - 1:00 PM

Location:

Max Atria at Singapore Expo

Spots Available:

250

Event resources:

Added
(Jump to event resources)
Held on 8 December at the Max Atria at Singapore Expo, the bizSAFE Convention 2022 served as a platform for companies to learn from each other on workplace safety and health (WSH) best practices as well as to celebrate winners of the bizSAFE Awards 2022. There were 29 companies and individuals recognised across three categories – the bizSAFE Partner Award, bizSAFE Enterprise Exemplary Award, and bizSAFE Champion Award.

In his Opening Address, Mr Zaqy Mohamad, Senior Minister of State for Manpower, cited the drop in the workplace fatality rate since September as an example that safety performance can improve when efforts and resources are channelled to WSH. He lauded the bizSAFE Awards recipients for their excellent risk management systems and credited the programme in helping companies build capabilities, putting in place good practices and risk assessments, and in thinking through the hierarchy of controls and good implementation of control measures. He shared how leaders need to be accountable and responsible for WSH, and that the bizSAFE Level 1 course for top management would now incorporate the Approved Code of Practice (ACOP) for Company Executives' and Board of Directors' WSH Duties. Additionally, to strengthen WSH governance, WSH Coordinators would be required to undergo refresher training once every two years.

The Convention featured presentations by Mr Prateek Jain, Chair of EuroCham Singapore Supply Chain Committee and Head of Nutrition and H&W Business at International Markets Unilever, as well as representatives of bizSAFE Awards recipients, Schindler Lifts and Zheng Keng Engineering & Construction. Mr Jain highlighted salient features of the new European Union (EU) Supply Chain Act and its implications on Environmental, Social & Governance requirements for companies operating or supplying to Europe, including Singapore, and covers how they look after employee safety, health, and well-being. The award recipients shared best practices in raising the WSH standards of business partners as well as integrating technology into their WSH operations.
Back as an in-person event this year since 2019, the bizSAFE Convention 2022 was attended by close to 250 guests.
View related resources