Launch of the National WSH Campaign 2021
01 Jul 2021 Ceremony Past Event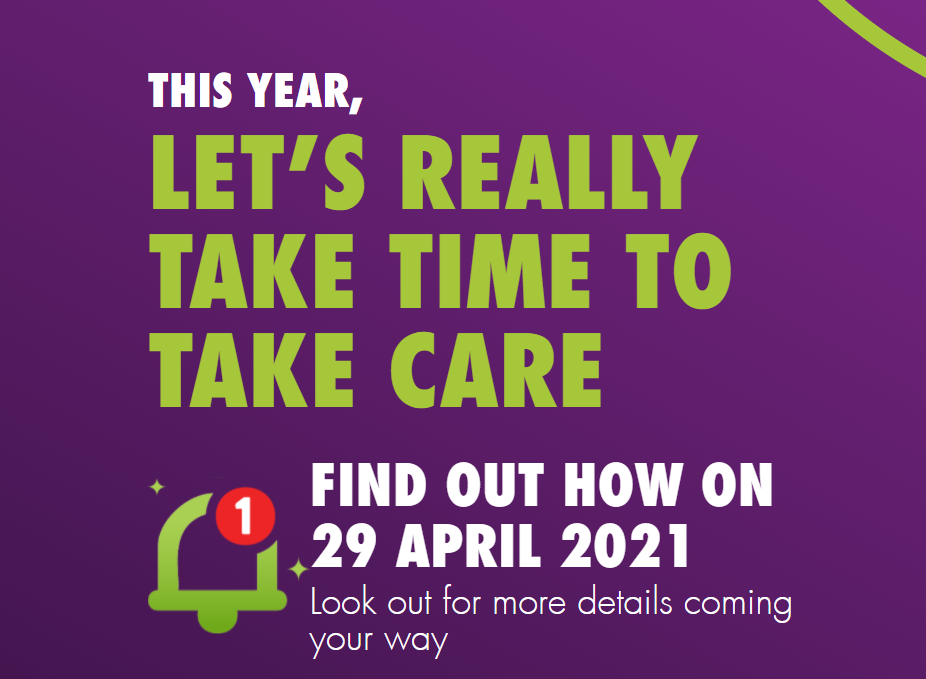 Date:

29 Apr 2021

Time:

10:30 AM - 11:30 AM

Location:

Zoom

Spots Available:

1000

Event resources:

Not Added Yet

On 29 April 2021, over 850 people joined the Workplace Safety and Health (WSH) Council in the opening of our year-long National WSH Campaign which was launched on-site and online for the first time. This event was supported by the Ministry of Manpower, National Trades Union Congress and Singapore National Employers Federation.

Carrying the same Campaign message as last year, "Take Time to Take Care of Your Safety and Health", this year's Campaign places the spotlight on WSH ownership and seeks to encourage the industry, employers and employees to set aside 'Care Time' to put WSH into action so that everyone can go home safely and healthily to their loved ones every day.

'Care Time' is a scheduled time of half an hour every week for workers to assess their surroundings for hazards, or to engage in health activities such as taking a rest, drinking water or doing simple stretching exercises. Workers are encouraged to save 'Care Time' in their mobile phone's calendar, and make a conscious effort to take concrete safety and health actions.

Chairman of the WSH Council Mr John Ng shared in his welcome address how these actions could help workers. He said: "When conducted regularly, these actions become habitual and can improve the worker's health and heighten his awareness of unsafe acts or conditions in his work environment in the long run."

Mr Zaqy Mohamad, Senior Minister of State for Manpower, in his opening address, emphasised that "WSH is a collective responsibility". He urged workers: "Do not be afraid to report unsafe conditions and near-misses to your supervisors." He also reminded employers to be diligent in completing risk assessments and to encourage their employees to take time to care for their health.

The speeches were followed by campaign activities and entertaining performances to engage our participants. 'Care Time' was brought to life by our Campaign personas – Zombie and Raisin – in a live skit which shared the importance of getting enough rest to stay focused at work, and heeding safety measures and not cutting corners at work.

Read Opening Address by Mr Zaqy Mohamad Senior Minister of State for Manpower at NWSH Campaign 2021 and
Welcome Address by Mr John Ng Chairman WSH Council at the Launch of the National WSH Campaign 2021

Participate in the National WSH Campaign 2021
Companies can:
• encourage or help their employees to set up 'Care Time' as a weekly reminder on their mobile phones.
• use their company mobile app to push out 'Care Time' notification to employees.
• visit www.taketimetotakecare.sg for more ideas on the kind of safety and health actions which their employees can do during their 'Care Time'.
Workers are encouraged to talk to their supervisors if they need to seek their supervisors' support when setting up their weekly Care Time at work, or to discuss the best possible time period to schedule their 'Care Time'. Workers should check their company policy on the use of mobile phones at work.

Share Campaign videos with your employees
Learn more about 'Care Time' through the eyes of our Campaign personas and workers in various workplace scenarios in our light-hearted safety and health videos.

#WSHCareTime
Companies and workers are welcome to share on Instagram and Facebook what they do during their 'Care Time' and hashtag "WSHCareTime" in their posts. Their social media posts will be collated on the Campaign microsite to inspire others to do the same.