HCP Conversations Knowledge Series - Stepping Up Talent Acquisition (Part 2)
Key findings from Mercer's "The State of Talent Acquisition 2021" report uncover key challenges, trends, and the outlook of talent acquisition.
21 Sep 2021 Articles Retrenchment Best practices Human capital partnership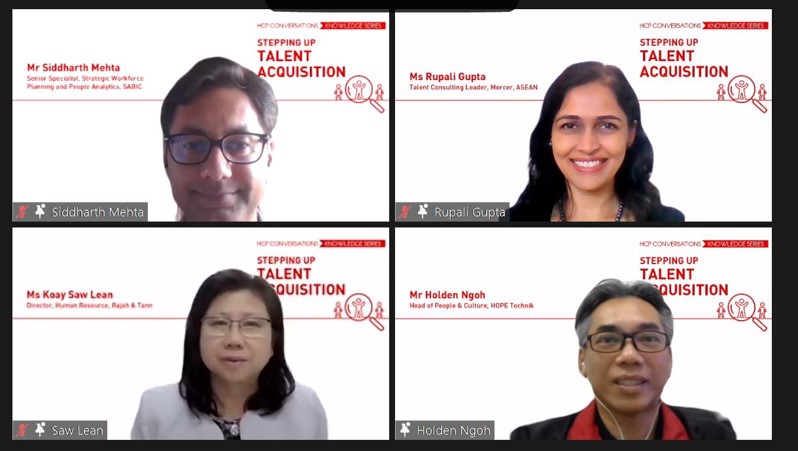 In the first of the HCP Conversations Knowledge Series – Stepping Up Talent Acquisition, we explored the impact of COVID-19 on talent acquisition practices, the outlook for the future; and how businesses have successfully adjusted to cope with the changes. This article is the second instalment in this two-part article series, view part one here.
Sharing by Ms Rupali Gupta, Talent Solutions Leader at Mercer Singapore: The State of Talent Acquisition 2021
The sharing by Ms Gupta on Mercer's "The State of Talent Acquisition 2021" report uncovered key challenges, trends and the outlook of talent acquisition.
How Businesses Have Adjusted Their Talent Acquisition Processes
The survey findings showed that almost half of the respondents have moved into virtual remote hiring to manage the impact of COVID-19 on hiring plans, with 81% of respondents moving to virtual interview processes, 62% shifting to a virtual screening process and 48% developing a virtual onboarding process.

Businesses who have made the investment reported tangible benefits in their hiring process, cost and capabilities, where
53% of respondents who leveraged virtual hiring witnessed a significant decrease in their recruitment cycle.
50% of companies reduced their expenses with massive savings in hiring costs.
37% of those surveyed identified future-proofing opportunities with virtual hiring.
The Future of Recruiting Processes: How can businesses continue to get the right talent to grow?
Virtual hiring is a mandate not just to survive but to thrive, especially in today's new landscape. What are some considerations for businesses looking to move into virtual hiring?
Tap new tools in the market to help you – Modern recruiting tools will not displace the human factor in hiring decisions, but they can be a critical ally in the search for and selection of talent. Consider online assessments and psychometric tools, online hackathons to source high-quality candidates; or screening chat bots to gather basic candidate information and automate the shortlisting process.
Finding the right fit of human and digital for your organisation – Some areas of consideration when deciding where to position along the human-digital spectrum include:
Industry: Which talent acquisition approach is appropriate for your industry?
Change of candidate profile: How is the profile of your candidates changing; and what is the impact on your selection and hiring processes?
Impact of job profile: How does the profile of the roles determine your approach?
Target workforce segment: Which approach is best for different workforce segments?
Importance of remaining fair and objective – Regardless of how you adjust your talent acquisition practices to meet hiring needs, it is the employers' responsibility to ensure that all processes remain fair and objective. This ranges from the screening process such as using recruitment chatbots that screen candidate applications to identification of talent through conducting remote interviews.
Beyond 2020
Positivity and confidence among hiring managers from the report indicate that they are eager to return to pre-pandemic hiring levels in 2021 and acquire talent amid a measured expectation of returning to normalcy. It is an exciting outlook, a sound reason for businesses to revisit and enhance talent acquisition practices. TAFEP's Human Capital Implementation Toolkit is designed to guide and help navigate you through this journey. Download the full toolkit here.