HCP Conversations Knowledge Series - Stepping Up Talent Acquisition (Part 1)
Panellists discuss how they have adjusted their talent acquisition strategies due to COVID-19 to acquire and retain talent needed for the business.
07 Sep 2021 Articles Recruitment Best practices Human capital partnership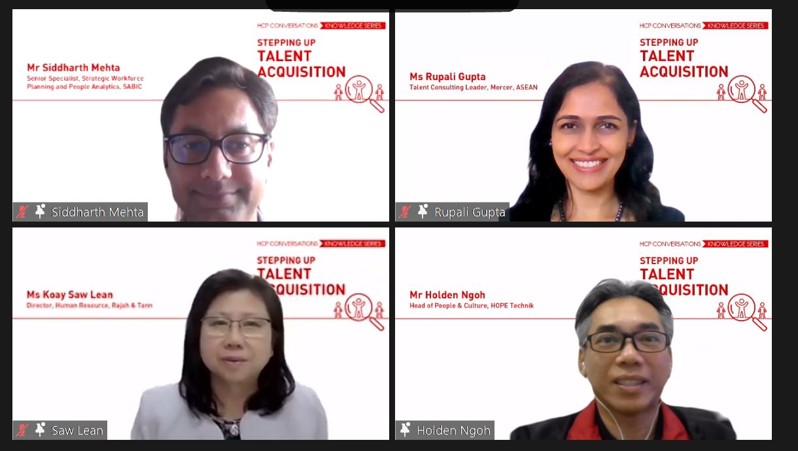 Panel discussion with Director of HR Ms Koay Saw Lean from Rajah & Tann, Head of People & Culture Mr Holden Ngoh from HOPE Technik, Talent Solutions Leader Ms Rupali Gupta from Mercer Singapore; and moderated by Senior Specialist of Strategic Workforce Planning and People Analytics Mr Siddarth Mehta from SABIC.
In the first of the HCP Conversations Knowledge Series – Stepping Up Talent Acquisition, we explored the impact of COVID-19 on talent acquisition practices, the outlook for the future; and how businesses have successfully adjusted to cope with the changes.
Panel Discussion: Rethinking the Fundamentals of Talent Acquisition in the New Norm
The panel discussion, joined by representatives from HCPartners and industry experts aimed to understand how businesses have pivoted their talent acquisition practices to continue hiring the right talent during COVID-19, and what businesses can do to tap new trends, technologies, tools, and processes for talent acquisition.
The panellists shared how they have adjusted their talent acquisition strategies due to COVID-19, to acquire and retain talent required for the business to thrive.
Leverage available programmes and resources

Understanding the need to pivot quickly, Mr Ngoh from HOPE Technik shared how the firm ventured into a new line of business of manufacturing temperature assessment systems during this period. To quickly get the talent with the right skill sets that they needed to ramp up production, the business leveraged available Government programmes and resources. Partnering with Workforce Singapore, HOPE Technik succeeded in collaborating with other organisations in hard-hit sectors and seconded employees with the necessary skill sets to work for the business. They also worked with non-profit organisation Trampolene to hire people with disabilities who assisted with the manufacturing process.

Reviewing existing talent acquisition and onboarding strategies while planning ahead

Ms Koay from Rajah & Tann shared how the organisation's internship programme – a key component of its talent acquisition strategy which relied heavily on face-to-face interactions with different firm partners, had to transit to a virtual setting during the COVID-19 pandemic. The law firm wanted to ensure the same level of engagement for its potential hires even when processes were done virtually. This meant reviewing current processes to facilitate communication and collaboration between parties, and creating opportunities for virtual engagement and interaction.

COVID-19 has shown the importance of flexibility in a business and how it adapts in order to provide employees and potential hires a positive experience. To stay prepared and ahead of change, Rajah & Tann continues to plan up to 3 years ahead through its internship and attachment programmes, in order to successfully nurture a steady talent pipeline.

Listening to the employee voice to build the employer brand

Ms Gupta from Mercer Singapore highlighted the relevance of employer branding to winning the war for talent. This involves truly understanding your employer brand and what your firm has to offer to attract and retain employees; and having a continuous and sincere listening strategy to understand and adapt to your current employee needs. For example, what motivates and drives them or what their needs are. After all, having employees advocate your brand is key to boosting talent acquisition.

The panel wrapped up with the representatives of HCPartners sharing ways businesses can show their commitment towards attracting local talents and building the Singaporean core, through initiatives such as internships, supporting mid-career switches through Professional Conversion Programmes; as well as being open and experimenting with different channels to reach out to talent.

This further reinforces the key findings from TAFEP's research study on HCPartners, where HCPartners demonstrated a keen sense of awareness of the key role that people play to the business, and the first step towards getting the right people is through talent acquisition. HR leaders represented on this panel also demonstrated commercial astuteness, understanding that growing the organisation through the effective use of HC practices is key to achieving business success. As employers of choice who value their people, HCPartners are committed to investing in and developing their employees across all levels.

The right talent acquisition strategy establishes a steady talent pipeline aligned with business goals to achieve long-term success. Built on findings and insights derived from data collected from HCPartners and interviews with Business Leaders, TAFEP's Human Capital Implementation Toolkit provides a step-by-step guide to identifying the needs of your organisation, developing an implementation plan and evaluating for gaps across HC practices, such as talent acquisition. Download the full toolkit here.

Look out for the next instalment in this two-part article series.