Telecommuting Tips - Success Strategies for Employees
Learn how you can work more productively at home
12 Mar 2020 Articles Work-life harmony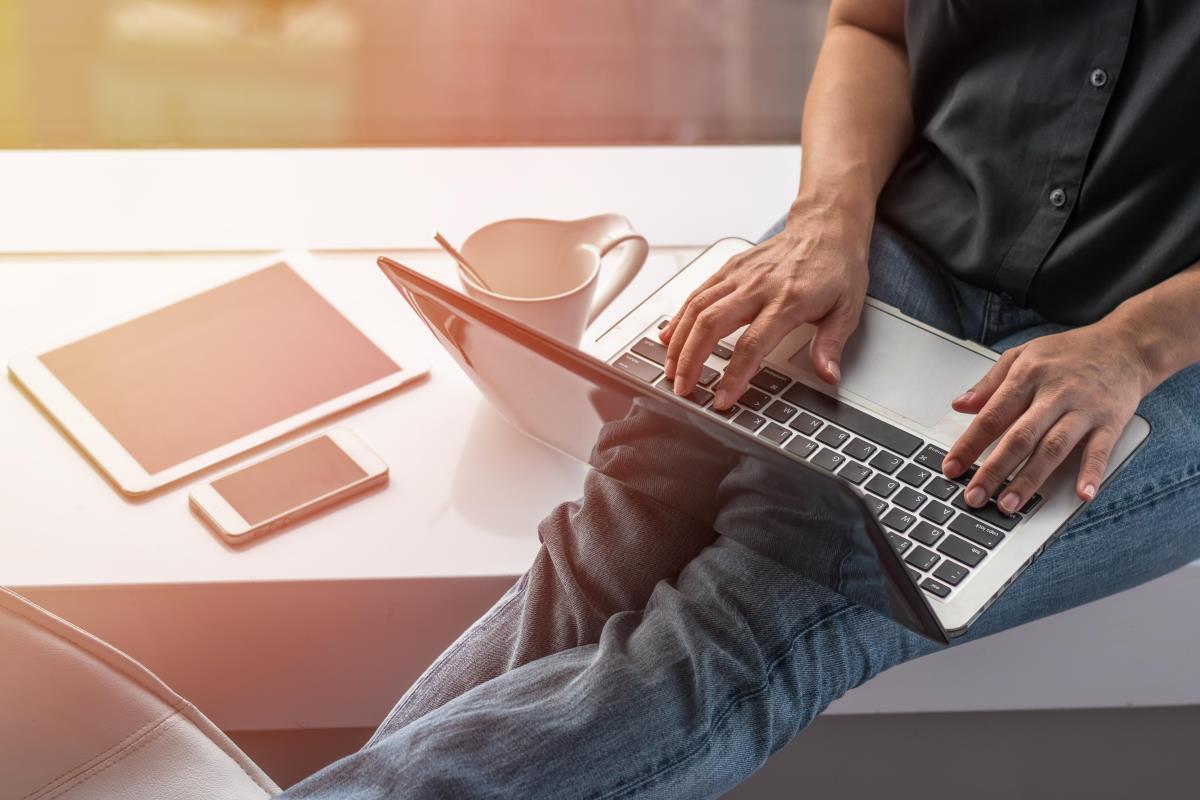 Flexible working arrangements (FWAs) have gradually gained popularity in Singapore. In addition to more individuals requesting work options outside the traditional office hours and setting, employers too, recognise the value in offering their workforce greater autonomy over when and where they work.
In recent times, FWAs have also become a mainstay in the business continuity plans of companies. Where the job scope allows, telecommuting enables employees to continue working from alternative sites such as home, in the event of major disruptions to business operations.
However, successfully working from home requires careful planning and commitment. Here are some specific strategies that you can adopt as an employee to make flexible work a win-win for the organisation and yourself.
#1 Be Result-oriented
Before flexible work became commonplace, the amount of time one spent in the office could be used as a measure of employee performance; supervisors had direct sight of their teams working and found it easier to identify when someone was working or required help on a specific task or project. However, as an employee, who works from home, you will need to carefully consider the measures that will be used to gauge your work performance. Ask yourself:
Are you aware of your specific job scope?

Do you know what Key Result Areas your role contributes to?
What are the Key Performance Indicators for your department?
Have a discussion with your supervisor to identify exactly how you will contribute to the set targets and set specific, measurable, achievable, relevant and time-bound goals that are aligned with these. Successful telecommuters show a high level of productivity and results even when working from home, which fosters deeper trust with their employers.
#2 Prepare the Home Environment
In order to telecommute effectively you will require a space that is conducive to work. Employees are expected to manage work requirements such as customer enquiries and conference calls with the same level of professionalism as they would in the office.
In your current office workspace, what are the key factors that make it an effective space for you to work? Consider how you can replicate these within your home as well. For example, you may require a quiet area with a desk and phone that allows you to focus on your work and take calls from colleagues or clients. You may also need enough space to store documents safely and retain confidentiality, a stable high-speed internet connection as well as a computer and other standard office supplies to carry out your work effectively from home.
Employees with caregiving responsibilities may also need to make alternative arrangements for the hours that they are working. For example, a parent may need to find a part-time caregiver, or share the parenting duties with a spouse if their child is at home during working hours.
#3 Establish a Routine
A common myth about telecommuting is that it allows you to work anywhere and anyway you want. However, seasoned telecommuters will share that a set routine helps them to switch gears to 'work mode' when working from home. Staying organised is the key to successful telecommuting. Scheduling your day ahead of time and marking out specific periods of time to work on projects, will help you to stay on task as well as provide you with clarity on what you have accomplished during the work day.
#4 Know Your Work Preferences
Knowing your workstyle can help you achieve greater efficiency when telecommuting. These are some questions to reflect on:
Do you prefer working on your own or collaborating with colleagues?

Do you prefer to receive direct and specific instructions from your supervisor, or do you like to know the objective and figure out how to achieve it on your own?

What is your preferred method and frequency of communication? (e.g. face-to-face meetings, email etc.)
For example, if you prefer to work as a team, you may want to schedule more discussions that facilitate collaboration. Conversely, if you require undisturbed time to focus on deeper work, block this time out on your daily schedule, inform your colleagues that you will be working on a specific project in that time and turn off your devices to minimise distractions.
#5 Leverage Technology to Connect
When employees work remotely, it is important to maintain constant contact with team members, supervisors, and other stakeholders such as clients. With the decrease in direct interaction in the workplace, more intentional communication is needed to maintain a strong team dynamic, and ensure that business operations proceed seamlessly, despite the change in working arrangements.
A coordinated effort is especially important when entire teams are working remotely, or in a split-team arrangement for an extended period. With readily available technology and the internet, you can consider alternatives to face-to-face meetings. Online meetings, phone calls, email and group chats are just some of the ways you can stay connected as a team.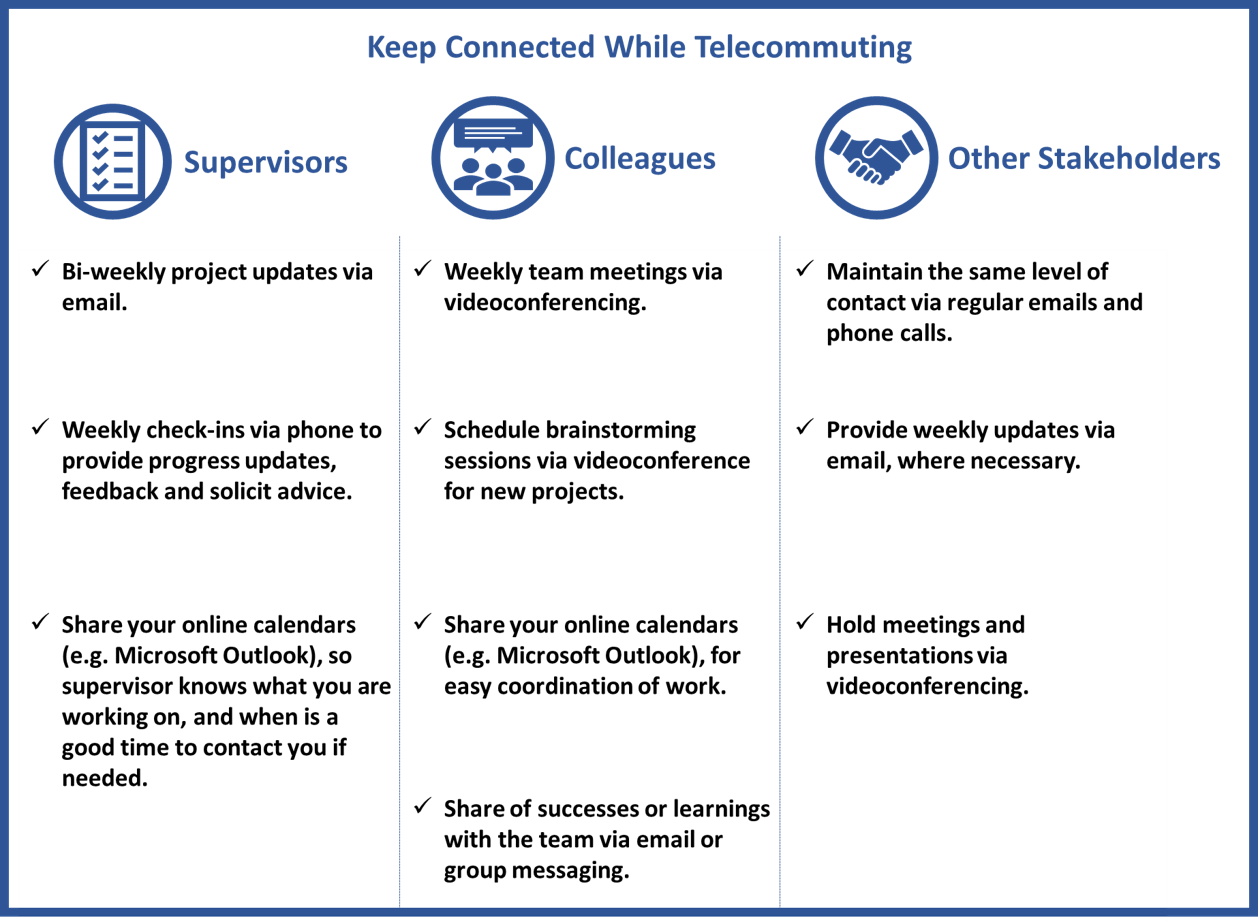 #6 Schedule Your Time Carefully
One common concern when telecommuting is that employees may tend to continue working beyond their usual hours, as they find it hard to 'switch-off' from work. Additionally, those who may be more extroverted may feel isolated working from home. However, scheduling your workday as well as making time for rest and personal interests can help you to shift more easily between work and personal time, and mitigate these challenges.
The benefits of FWAs are well-documented. With careful planning and the support of your supervisor, you can efficiently manage your time and be productive at work, even while working from home.