Tapping the Experience of Older Workers
Suntec Singapore shares how it values the experience of older workers through creation of new roles and responsibilities.
08 Jan 2020 Articles Age management Best practices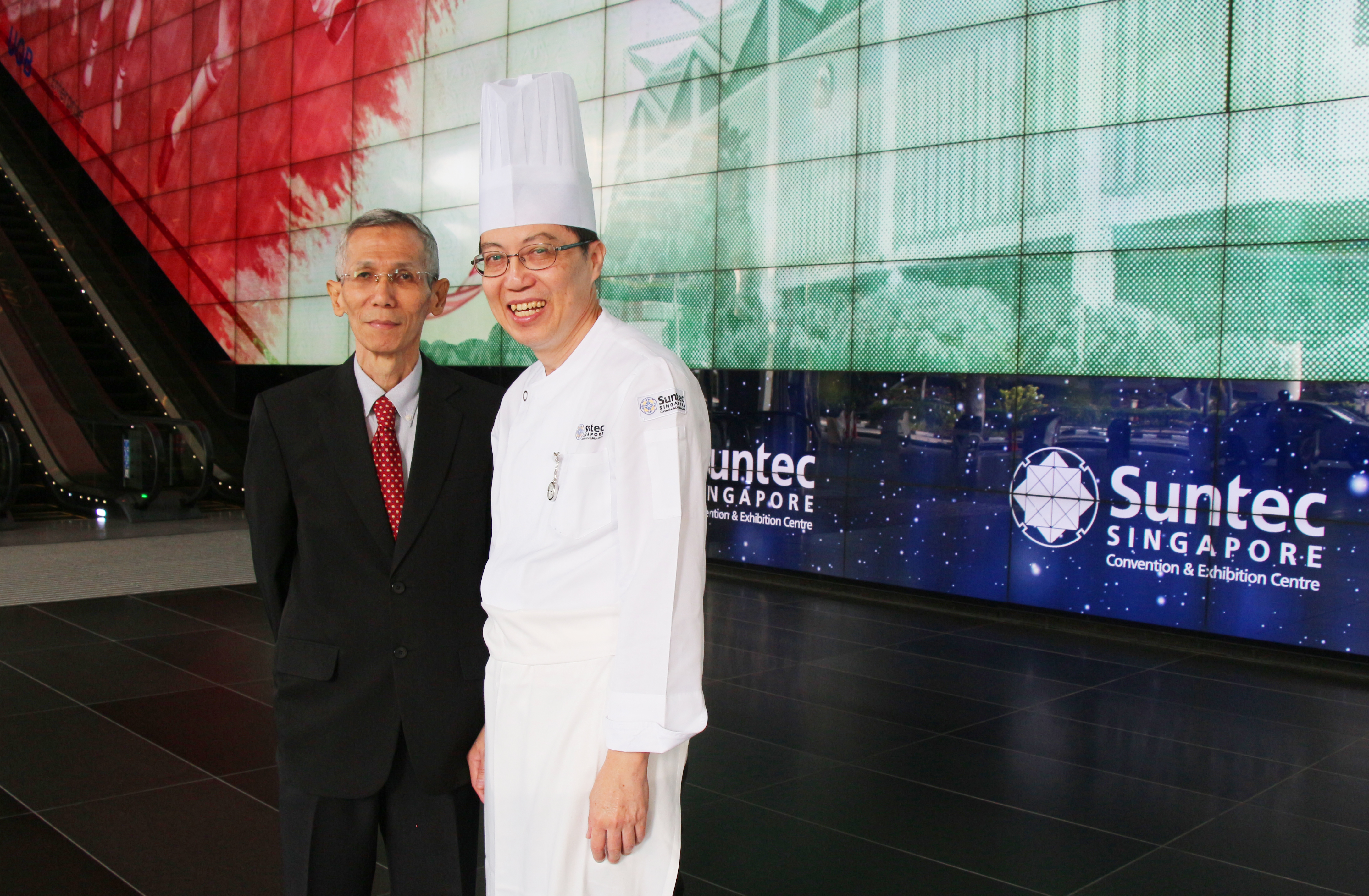 Mr Zakaria Bin Abdullah Boey and Chef Foo Shee Fong, two of Suntec Singapore's older workers who are benefiting from the organisation's age-friendly workplace practices.
When the 66-year-old Mr Zakaria Bin Abdullah Boey decided to return to the workforce, Suntec Singapore welcomed him readily when other organisations were reluctant to.
A former Head of Security at Suntec Singapore, Mr Zakaria left the organisation in 2016 for health reasons. Later, still wanting to stay active, he started to look for part-time jobs that would allow him to work a few hours a week. However, employers were reluctant to hire him due to his medical condition. In March 2018, he reached out to Suntec Singapore. When the organisation's CEO Mr Arun Madhok heard about Mr Zakaria's predicament, he immediately agreed to rehire him. Mr Madhok went the extra mile to work with the Human Resource department to design a role specially for Mr Zakaria - one that would allow him to work shorter hours.
With Age Comes Ability
Today, Mr Zakaria is a Quality Control Supervisor. But that's not the only role he holds. At Suntec Singapore, older workers are highly valued for their abilities to accelerate learning in their younger colleagues. Mr Zakaria's extensive experience makes him the perfect candidate for the role of a mentor in the organisation's mentorship programme.
"Mr Zakaria's years of experience are valuable to the team. He has much to offer as a mentor to new employees, showing them the ropes by transferring his knowledge and skills," shared Mr Madhok.
Another elder mentor is Executive Sous Chef Foo Shee Fong, who has been working at Suntec Singapore for over 20 years. In 2017, at the age of 62, Chef Foo was re-employed. Today, he continues his duties as second-in-command of a 30-man team, where he overseas the preparation of thousands of meals during events, plans duty rosters, and employs transient workers.
"Chef Foo has years of experience and I look up to him for his detailed planning and commitment to his job. He has great culinary skills and never fails to coach his team to ensure everyone gives their best at every event," said his mentee, Mr Elvis Ng.
An Age-Friendly Workplace
The mentorship programme is just one example of what Suntec Singapore has been doing to support its older workers, as part of an engagement matrix specially designed for them. The matrix includes initiatives to communicate and engage with its older workers. The Human Resource department connects with each older worker a year before they reach retirement age, to talk about their plans after retirement. Suntec Singapore, upon assessing the older worker's interest and ability to continue working in the organisation, will rehire them on a contract basis, with the same salary, benefits and leave structure, Annual Wage Supplements and year-on-year salary increments. The older workers are also given full medical, dental and hospitalisation coverage. With a rich track record of supporting older workers, it was only natural for Suntec Singapore to adopt TAFEP's Tripartite Standard on Age-Friendly Workplace Practices. Launched in April 2018, this Standard was introduced in recognition of Singapore's growing ageing workforce. Adopters of the Standard have pledged to be age-inclusive in areas such as selection and hiring, training, job redesign, salary increments and re-employment. With Suntec Singapore's investment in its human capital, including its older workers, the company also joined the ranks of the Human Capital Partnership companies.
"Suntec Singapore will have 23 employees above the age of 60 by end-2019. We recognise the value of the efforts and contributions of our older staff, and are constantly working to improve their well-being at the workplace," said Mr Madhok.
This article first appeared in the October 2018 issue of Human Capital Partnership Conversations.