Driving Sustainable Business Results with Flexible Wage System
Benefits of Flexible Wage System (FWS) and considerations for organisations when implementing FWS.
05 Apr 2023 Articles Performance management Remuneration Best practices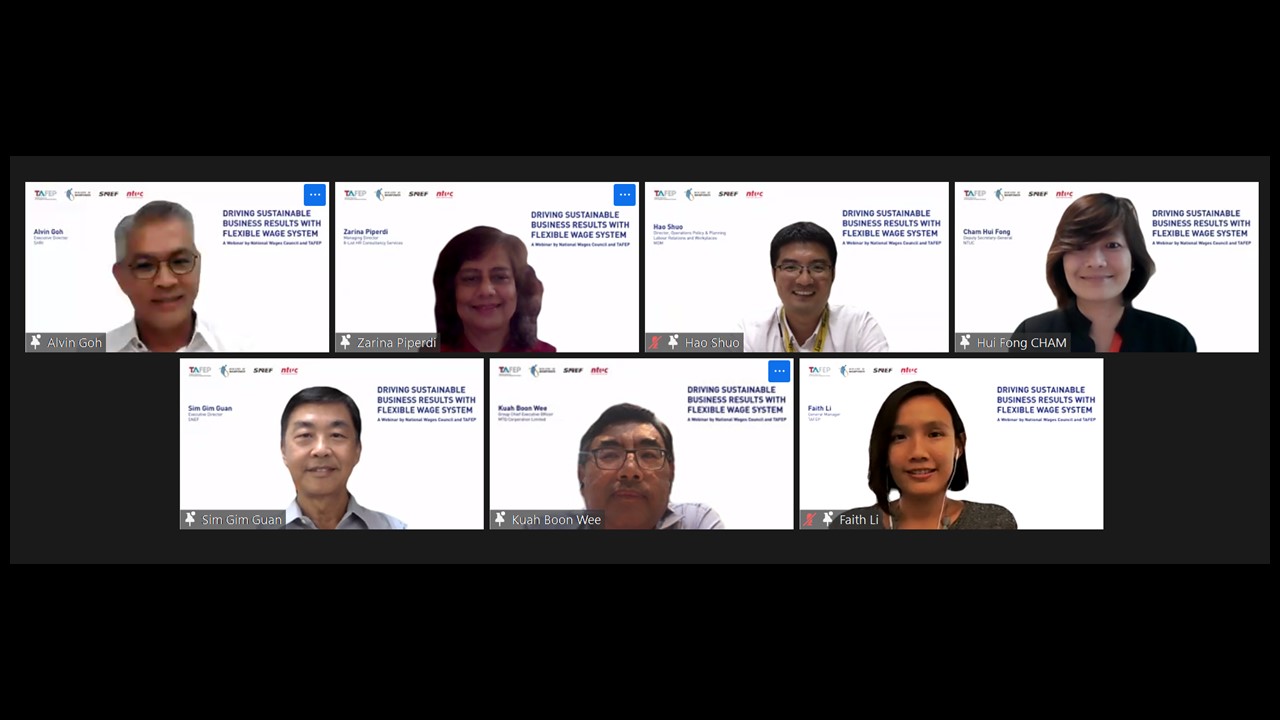 Panellists (from left) Mr Alvin Goh, Executive Director, Singapore Human Resources Institute; Ms Zarina Piperdi, Managing Director, 8-List HR Consultancy Services; Mr Hao Shuo, Director of Operations Policy and Planning at the Labour Relations and Workplaces Division, MOM; Ms Cham Hui Fong, Deputy Secretary-General, NTUC; Mr Sim Gim Guan, Executive Director, SNEF; Mr Kuah Boon Wee, Group Chief Executive Officer, MTQ Corporation Limited; and opening address by Ms Faith Li, General Manager, TAFEP.
The National Wages Council (NWC)'s 2021/2022 guidelines were released on 29 Oct 2021 and one of the recommendations is for wages to move in tandem with the pace of business recovery and be based on the Flexible Wage System (FWS).
Here are some benefits of FWS and pointers for organisations to consider when implementing FWS based on key insights from NWC and TAFEP's 'Driving Sustainable Business Results with Flexible Wage System' webinar.
FWS allows organisations to better manage wage costs and provide greater job security for employees, allowing agility in response to the business environment
FWS' two key components, the Monthly Variable Component (MVC) and the Annual Variable Component (AVC), allow organisations to reduce wage costs during business slowdowns as well as to reward employees appropriately when business is good in a particular year. This enables organisations to retain competitiveness compared to businesses with more rigid wage structures.
Linked to organisational and individual performance, FWS provides:
a common goal for employees and help improve productivity of the organisation.

employees with the assurance that their contributions will be rewarded and recognised accordingly, and any wage adjustment will be more quickly restored in tandem with business.

transparency and certainty which reduces disputes over unfair wage adjustments.
Structured wage adjustments under the FWS allow organisations to manage wage costs more dynamically based on a fixed set of indicators and retain manpower
Compared to cost-saving measures such as no pay leave, which may be suited for some situations where there is decreased business activity, but tend to be ad-hoc, unstructured and reactive, the FWS allows structured wage adjustments. In the case of no pay leave, there is no certainty when and how it would be lifted, and puts organisations in recovery phase at a disadvantage, e.g. they may need extra manpower, but employees may have taken on a second job and need to fulfil their contractual obligations with the second employer.
To implement FWS successfully, organisations should:
Set realistic and achievable key performance indicators (KPIs) for MVC/AVC computation and put in place supporting systems and practices
Organisations should identify the trigger points for wage adjustments and restoration. Some commonly used trigger points include sustained reduction/increment in production output, cargo load yield and gross operating profit and/or sales.
Supporting systems and practices include regular sharing of relevant information on organisational performance and business prospects; and management taking the lead in making earlier and deeper cuts to their wages in times of business downturn.
Build a trusted employer and employee relationship through transparent communications
When communicating with employees, help them understand the organisation's current wage structure and build trust by providing a holistic view of FWS and sharing the pros and cons, e.g. organisations could share:
Upsides of having FWS, e.g. how salary and total compensation could have been better with the variable components in place based on the organisation's levels of profitability over the years.

The possible impact on their salary when the organisation is not performing well.

How the organisation intends to implement the FWS and the trigger points for wage adjustments. Involve unions or informal leaders in these conversations with employees.
Any deviation or changes to the contract including the payment structure should be discussed and agreed upon with employees and unions (if applicable) as any unilateral adjustments can result in unhappiness, confusion and disputes.
Engagement with employees should continue even after implementing FWS. Organisations should help employees understand the organisation's performance and business prospects to build and maintain trust. Employees would be more likely to support some of the burden when the organisation is not doing well, but at the same time, it could motivate them to think about profits they can receive when the organisation performs well.
FWS should be treated as a tool that allows organisations to stay agile, motivate performance, align employees to the goals of the organisation and enable them to better reward employees when they can do so. While the economic climate is improving, organisations should prepare for the rainy season and make the necessary preparations to implement FWS to be more resilient and well-prepared for future crises.
To know more about FWS, refer to the Flexible Wage System Guidebook.