This article is part of a series to help you better understand your employment obligations towards your employees. We hope this information is of help when you review your HR practices and to ensure you correctly apply the statutory provisions, in compliance with the Employment Act (EA), towards being a responsible and progressive employer.
In this article, we will address the topic on public holiday pay as illustrated in the scenario below:
Q: My Project Safety Manager (with a monthly basic salary of $4600) is required to go onsite to perform safety inspections on a public holiday (Christmas Day), which happens to fall on a working day (e.g. a Wednesday).
As part of the company's policy, instead of paying them public holiday pay or giving them a day off in lieu, the company pays them a lump sum allowance at the end of the year as part of the company's reward & recognition policy.
Now that all employees (including managers & executives) are covered under the EA and are entitled to 11 paid public holidays, can I continue to pay an annual lump sum incentive whenever a managerial or executive staff works on a public holiday?
TAFEP: The EA requires employers to compensate their employees if they request employees to work on a public holiday. The different forms of payment for working on a public holiday are as follows: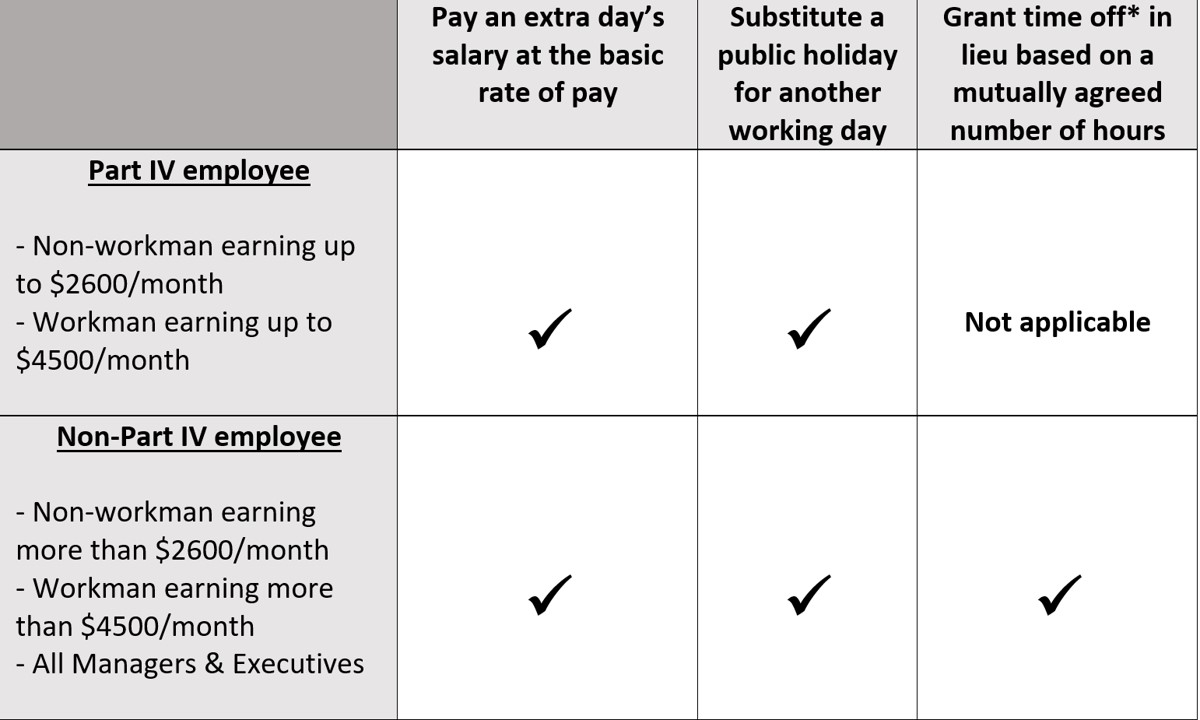 * If there is no mutual agreement on the duration of time off-in-lieu, the employer can decide to grant either 4 hours of time off-in-lieu for working 4 hours or less on a holiday, or a full day off on a working day for working more than 4 hours on a holiday.
Complying with the EA
In the scenario above, the company's practice of paying an annual lump sum incentive at the end of the year is not in compliance with the EA.
To comply with the EA, the company needs to revise its policy to compensate employees with either an extra day's salary (to be paid together with his basic salary for that month within 7 days from the salary period), a full day off-in-lieu, or to offer time off consisting of mutually agreed number of hours whenever they work on a public holiday.
Encashment of public holiday
On a related note, employers are also not allowed to encash the public holidays and add it into a full-time employee's gross salary. The practice of encashing the public holidays is only applicable to part-time employees (who work less than 35 hours a week) and such an agreement must be clearly stated in their contract of service.
For more information on public holidays, refer to the MOM's website at the following links:
https://www.mom.gov.sg/employment-practices/public-holidays-entitlement-and-pay
https://www.mom.gov.sg/employment-practices/part-time-employment/public-holidays
Additional resources
To read our previous articles, please click on any of the links:
Employer Advisory Service @ TAFEP (EAS) – EAS consultants will provide scenario-based advice to employers on the Employment Act and relevant parts of the Child Development Co-Savings Act, Employment of Foreign Manpower Act, and Retirement and Re-employment Act, which impact employment terms and conditions.
EAS consultants do not provide legal advice and will not discuss points of law. We will only provide practical guidance on the application of the Employment Act and other labour laws related to the specific scenarios that are raised by employers and share good employment practices that are adopted by industry peers and employers in Singapore.
For more information on EAS@TAFEP, please visit https://www.tafep.sg/eastafep