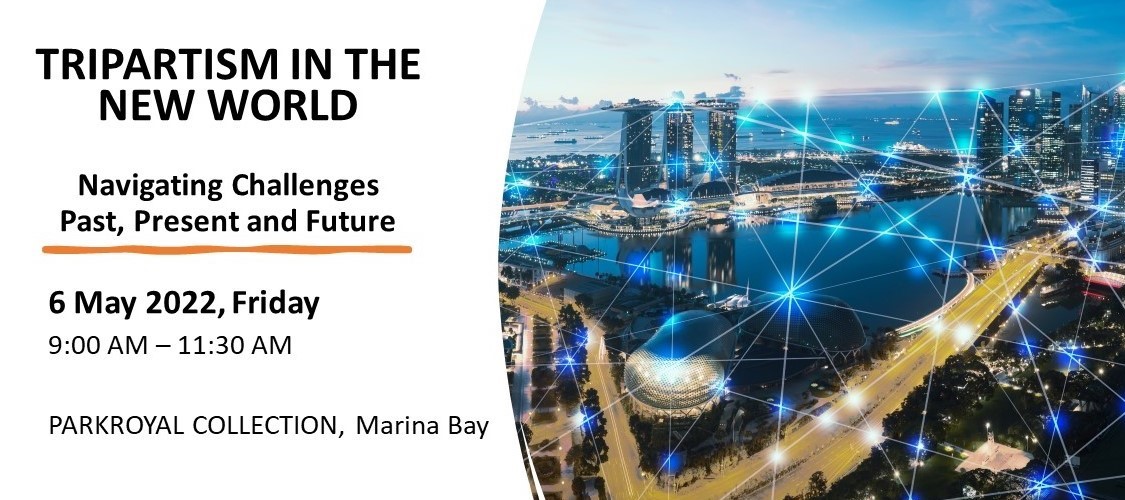 Hear from our past and present tripartite leaders about
tripartism in Singapore and the Future of Work landscape
Post-Event Highlights
The event comprises:


Keynote presentation by Stewardship Asia Centre (SAC) on "Tripartism in Singapore: A Steward Leadership Journey" which covers the journey of tripartism with steward leadership principles, and how the COVID-19 experience illustrates tripartism in action.

Panel discussion on how past and future global events could shape tripartism in Singapore.

Panel discussion on how key driving forces will impact the Future of Work landscape, and how employers, employees and the Government can better prepare ourselves for the shifts.
Event Programme

9.00am

Welcome Remarks
By Mr Stephen Lee, Chairman, Tripartite Alliance Limited

9.05am

Tripartite Collective Logo Launch

9.15am

Keynote Presentation–Tripartism in Singapore: A Steward Leadership Journey
By Mr Rajeev Peshawaria, CEO, Stewardship Asia Centre

9.40am

Panel 1 –Tripartism and Global Challenges: Opportunities and Challenges in Crises
Moderated by Emeritus Professor Annie Koh, Singapore Management University

Panellists

Mr Lim Boon Heng, Former Secretary-General, NTUC
Mr Lim Swee Say, Former Minister for Manpower
Mr Stephen Lee, Former President, SNEF
Mr Peter Seah, Chairman, National Wages Council
Mr Rajeev Peshawaria, CEO, Stewardship Asia Centre

10.20am

Panel 2 –Future of Work and Tripartism: How do we prepare ourselves
Moderated by Emeritus Professor Annie Koh, Singapore Management University

Panellists

Dr Tan See Leng, Minister for Manpower
Dr Robert Yap, President, SNEF
Ms Mary Liew, President, NTUC
Mr Ng Chee Meng, Secretary-General, NTUC
Mr Lai Chang Wen, CEO, Ninja Logistics

11.20am

Closing Remarks
By Ms Gan Siow Huang, Minister of State for Manpower

11.30am

End of Programme
Supporting partners: