GUIDE Process
Learn how to perform the DfS review process systematically.
Purpose
GUIDE is a recommended approach to performing the DfS review. It identifies foreseeable risks in the project and ensures that the design is safe.
Process
The steps in the GUIDE process are:
Step

Details

G

Group main stakeholders in a review team.

U

Understand the full design concept by:

Looking at the drawings and calculations; or

Getting designers to elaborate on the design.

I

Identify risks that may arise as a result of the design or construction method; and

Record and analyse risks to see if they can be eliminated by changing the design.

D

Design around the identified risks to eliminate or mitigate risks.

E

Enter key information into the DfS Register, such as:

Vital design changes that would affect safety and health; or

Remaining risks to be mitigated.
Application
GUIDE is recommended to be done in three phases, namely:
Concept design review;

Detailed design, maintenance and repair review; and

Pre-construction review.
The following diagram illustrates the GUIDE process for typical projects.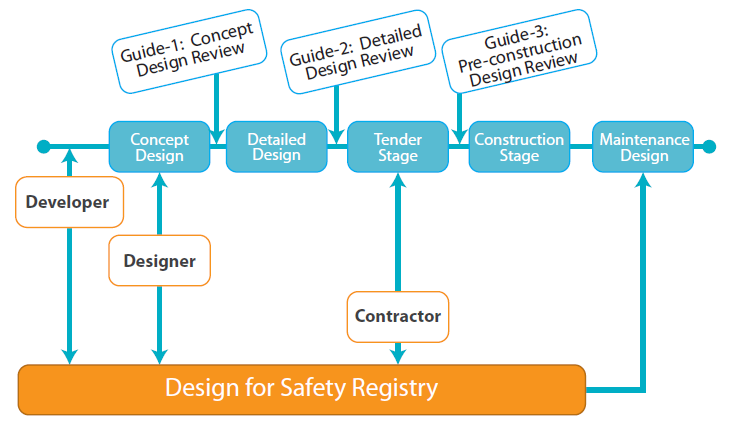 Post-Application
After the DfS review process is done, there should be:
Endorsement of safest possible designs by all parties; and

A record of residual risks and vital safety and health information.
View related resources