Safe Hands Campaign 2021

There has been a trend of amputations occurring once every three days within the manufacturing, construction and marine sectors. As such, the prevention of hand injuries continues to be an area of focus for workplace safety and health (WSH).

Losing a finger, a hand or any part of the body not only causes physical pain to the worker; it also severely impacts the worker's livelihood and mental well-being. The Safe Hands Campaign 2021 seeks to remind everyone on the importance of protecting our hands while at work, and building a culture of prevention in the workplace so that everyone can work in a safe environment.
Opening of Safe Hands Campaign 2021
Organised by the Workplace Safety and Health (WSH) Council, in collaboration with the Singapore Manufacturing Federation (SMF), the Safe Hands Campaign 2021, which was held as a webinar, was kickstarted on 25 March 2021 and attended by 450 industry professionals.

This year's Campaign continued to raise awareness on hand and finger injuries at the workplace, and how to prevent them. Good WSH practices within the manufacturing industry were showcased through a "Safer Machines, Safer Hands" video. Participants also watched a learning journey video of SMS Zaqy Mohamad on a site tour at 3M Innovation Singapore Pte Ltd.

The Safe Hands Campaign 2021 programme was as follows:
• Opening Address by Mr Zaqy Mohamad, Senior Minister of State for Manpower
• Screening of Safer Machines, Safer Hands Video on good practices of machine safety
• Screening of Site Tour video at 3M Singapore, led by SMS Zaqy Mohamad
• Livestreaming of 3M sharing their Safe Hands Programme

SMF President, Mr Douglas Foo, kickstarted the event with a reminder that hand and finger injuries are preventable. He also encouraged companies to gear towards Industry 4.0 – the trend of adopting automation, data exchange and machine learning in manufacturing technologies. He cited the rise of 'Cobots' to prevent potential accidents. They are robots that are fitted with safety features, such as safety-rated monitored stops, to stop the machine whenever a human enters its collaborative workspace.

Senior Minister of State (SMS) for Manpower, Mr Zaqy Mohamad, spoke about the importance of conducting a Safety Time-Out, against the backdrop of a spate of workplace fatalities in February. He strongly urged everyone to review risk assessments, procedures and practices to prevent such incidents from recurring.

How to participate in the Safe Hands Campaign 2021

Pledge your support
Pledge your company's support for Safe Hands to help prevent hand injuries and amputations. Be committed to take steps to identify possible machinery hazards, and adopt measures to eliminate or minimise the risks for your workers at the workplace.
Watch and share Campaign video
WSH Council has produced a video titled "Safer Machines, Safer Hands" to show how companies in the manufacturing sector use light curtains, machine guards, and protective removable guarding with handles to minimise workers' hand and finger injuries when operating the machines.

Watch the video of SMS Zaqy Mohamad who brings you on his learning journey on site at 3M Singapore Pte Ltd, where you will learn how 3M has embraced technology such as the Manipulator and the Automatic Packing Machine at the workplace to reduce hand and finger injuries, and other hazards.

Take the Campaign persona quiz
Take part in the Campaign quiz and discover what your persona is. Find out more on how you can improve your health and lifestyle habits for your safety.
Resources for Employees
Visit the microsite at www.taketimetotakecare.sg and download the Care Kit for Employees where you can learn about health tips and other useful resources so as to be safer at work.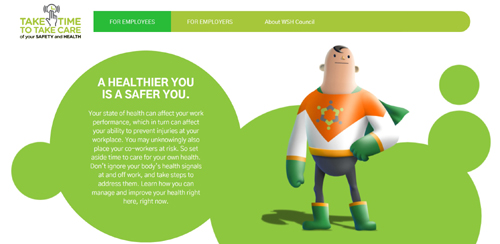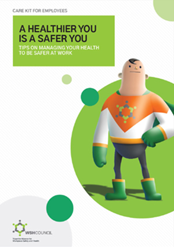 Others:
Resources for Employers
Employers should walk the ground regularly to recognise, identify, manage and control any amputation hazards caused by the mechanical components of machines; and address these safety hazards through improved work practices and administrative controls.
Employers are strongly encouraged to tap into the following resources:

WSH Safe Hand Kits for Food and Beverage Manufacturing
Training slides for Food Manufacturing
Case Studies for Food Manufacturing
6 Basic Workplace Safety and Health (WSH) Rules for Food Manufacturing

WSH Safe Hand Kits for Metalworking
Safe Operation of Machines for Metalworking Sector
Case Studies for Metalworking Industry
6 Basic WSH Rules for Working with Machines (English | Mandarin)

WSH Safe Hand Kits for Woodworking
Training Slides for Woodworking
Case Studies for Woodworking
6 Basic Workplace Safety and Health (WSH) Rules for Woodworking

Library of Photos on Best Practices for Machinery Safety
Pictogram training slides for workers on various topics of WSH and SMM
Employer's Kit on how to create a healthier, safer and more productive workforce for their business.
Others:
View related resources