Drive Safe, Work Safe Campaign 2020


Vehicular safety continues to be one of the focus areas in 2020. The Drive Safe, Work Safe Campaign 2020 aims to reinforce the importance of adopting good driving practices and traffic safety management, and taking care of one's health to prevent accidents while driving.
Opening of Drive Safe, Work Safe Campaign 2020 led by L&T Sector
Supported by the WSH Council, the Drive Safe, Work Safe Campaign 2020 was kickstarted with the WSH e-Forum for Logistics and Transport (L&T) Sector on 1 September 2020 to raise awareness of vehicular safety in warehouses and to remind workers to take care of their health – such as getting sufficient rest – to prevent fatigue and vehicular accidents.

The WSH e-Forum for L&T Sector, held online via Zoom platform, was attended by more than 300 participants ranging from senior management to safety professionals. Themed WSH amidst COVID-19, this e-Forum reinforced the importance of upholding WSH in the midst of managing the pandemic situation.

Mr Dave Ng, Co-Chairman of the WSH Council (Logistics and Transport) Committee, shared that SMEs will be able to tap on the government's Productivity Solutions Grant (PSG) for funding support in the adoption of the fleet safety management solutions. He said: "As vehicular incidents have been among the top concerns for workplace injuries in recent years, I urge companies to tap on the grant and support available to digitalise their business and in turn, improve the WSH landscape for the L&T industry. Do keep a lookout for these solutions as they are being listed on GoBusiness Gov Assist in the next couple of months."
Sharing of good practices
Representatives from Sin Chew Woodpaq Pte Ltd and the Ministry of Manpower shared on the integration of Safe Management Measures (SMM) into WSH and how its implementation looked like on the ground.
The e-Forum also showcased how Automated Mobile Robots help companies to implement Safe Management Measures during this Covid-19 period as well as improve WSH at the workplace. YCH Group shared how the company has adopted the Automated Storage Retrieval System (ASRS) in the warehouse to better manage its warehouse operations and uphold safety. It not only helps to eliminate common risks associated with warehousing, it also prevents the spread of COVID-19, as its operation requires minimal human contact.
Special recognition was also given to the companies and project teams that participated in the WSH Innovation Awards 2020 for the L&T Sector. Schneider Electric, award recipient of WSH Innovation Awards 2020 for the L&T Sector, had creatively developed a Virtual Reality (VR) system to train its workers on the safe operation of Powered Industrial Trucks. Results from implementation of their VR training have shown that workers were less likely to be involved in truck-related incidents.
How to Participate in the Drive Safe, Work Safe Campaign
Watch and share Campaign video

Aligned with the National WSH Campaign 2020's call to "Take Time to Take Care of Your Safety and Health", the WSH Council has produced a video showing how poor health from e.g. not getting enough sleep can lead to poor focus, resulting in potential vehicular accidents for drivers.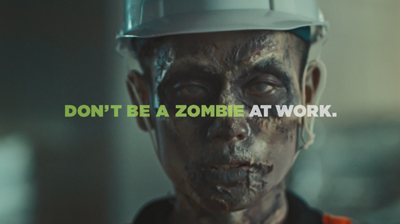 View the video on the WSH Council's social media platforms such as Facebook and YouTube.

Campaign persona quiz

Take part in the Campaign quiz and discover what your persona is. Find out more on how you can improve your safety, health and lifestyle habits here.

Download training resources for workers

Download the L&T pictorial slides on the following topics:
Download the pictogram posters:
Other resources
Below is a list of other resources on vehicular safety for the management, supervisors and drivers:

For Management and Supervisors
For Drivers
View related resources