Slips, Trips and Falls Campaign 2020
Slips, Trips and Falls (STFs) remain the top cause of both major and minor injuries. Major and minor injuries arising from STFs increased from 3,610 in 2018 to 3,910 in 2019.
The Slips, Trips and Falls Campaign aims to raise awareness of STFs and remind all industries, employers and employees to take preventive measures to minimise or eliminate the risk of accidents.
This year, the Workplace Safety and Health (WSH) Council kickstarted the Slips, Trips and Falls Campaign with the Logistics and Transport (L&T) Sector taking the lead, with other sectors following suit in the months to come.
Opening of Slips, Trips and Falls Campaign 2020 led by L&T Sector
Since 2014, Slips, Trips and Falls (STFs) have been the leading cause of workplace injuries.
In 2018 and 2019, falling from vehicles accounted for almost 10% of STF incidents. Most of these incidents happened when workers were getting into or out of the heavy vehicle cabin.
The STF Campaign for the L&T Sector focuses on raising awareness of good practices on entering/exiting heavy vehicle cabin safely, to prevent STF incidents.
In support of the L&T Sector, the WSH Council produced a Campaign video and sticker targeted at heavy vehicle drivers. Mr Dave Ng, Co-Chairman of the WSH Council (Logistics and Transport) Committee, shared that the sticker will remind "heavy vehicle drivers of the importance of WSH when getting into and out of their heavy vehicle cabins". This sticker will be placed on the cabin door as a reminder to drivers to maintain a 3-point contact when accessing and egressing from their heavy vehicle cabin.
The Campaign video was supported by three SMEs in the L&T sector, namely CST Container Services Pte Ltd, MES Group Holdings Pte Ltd and Sin Chew Woodpaq Pte Ltd.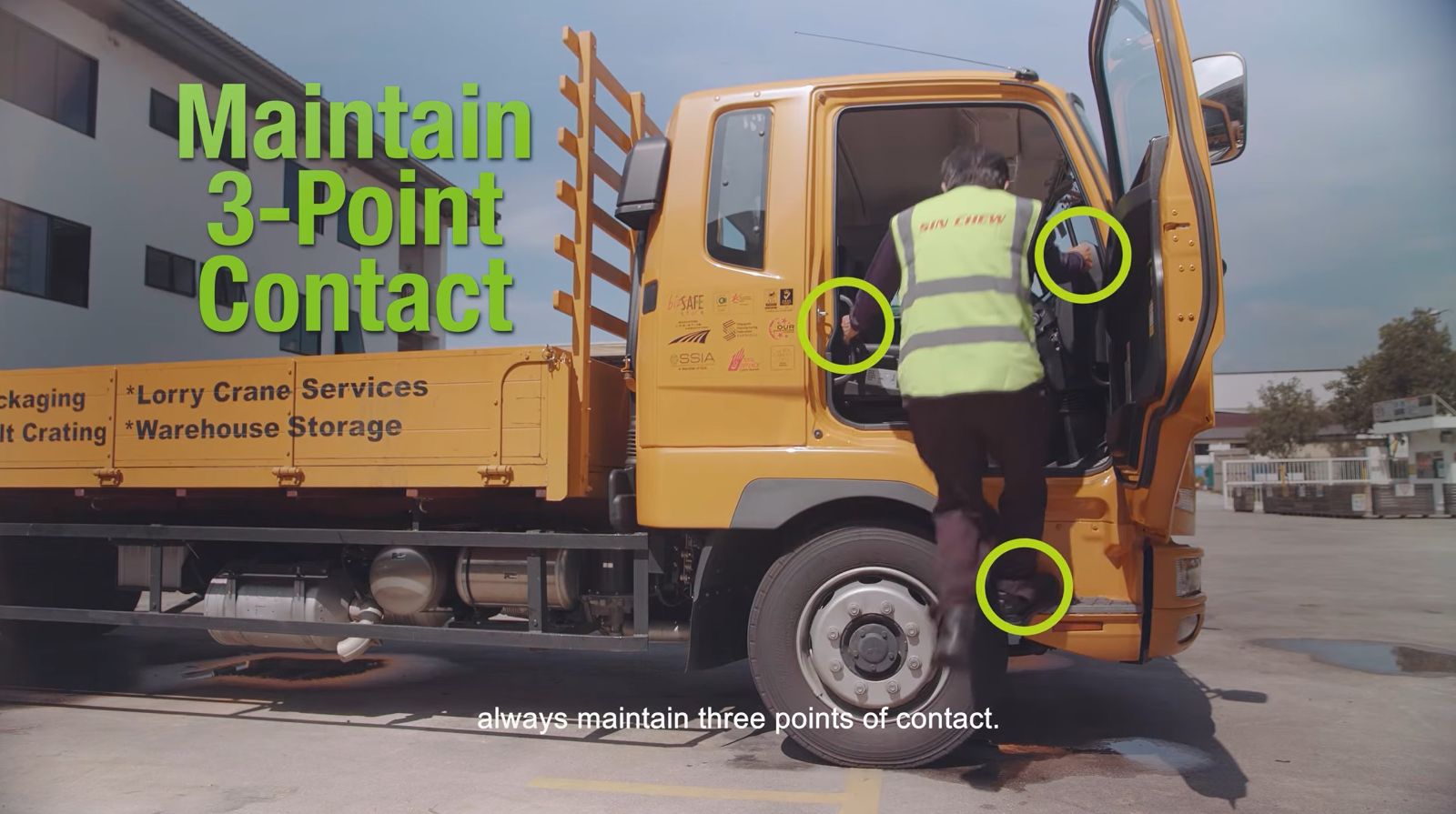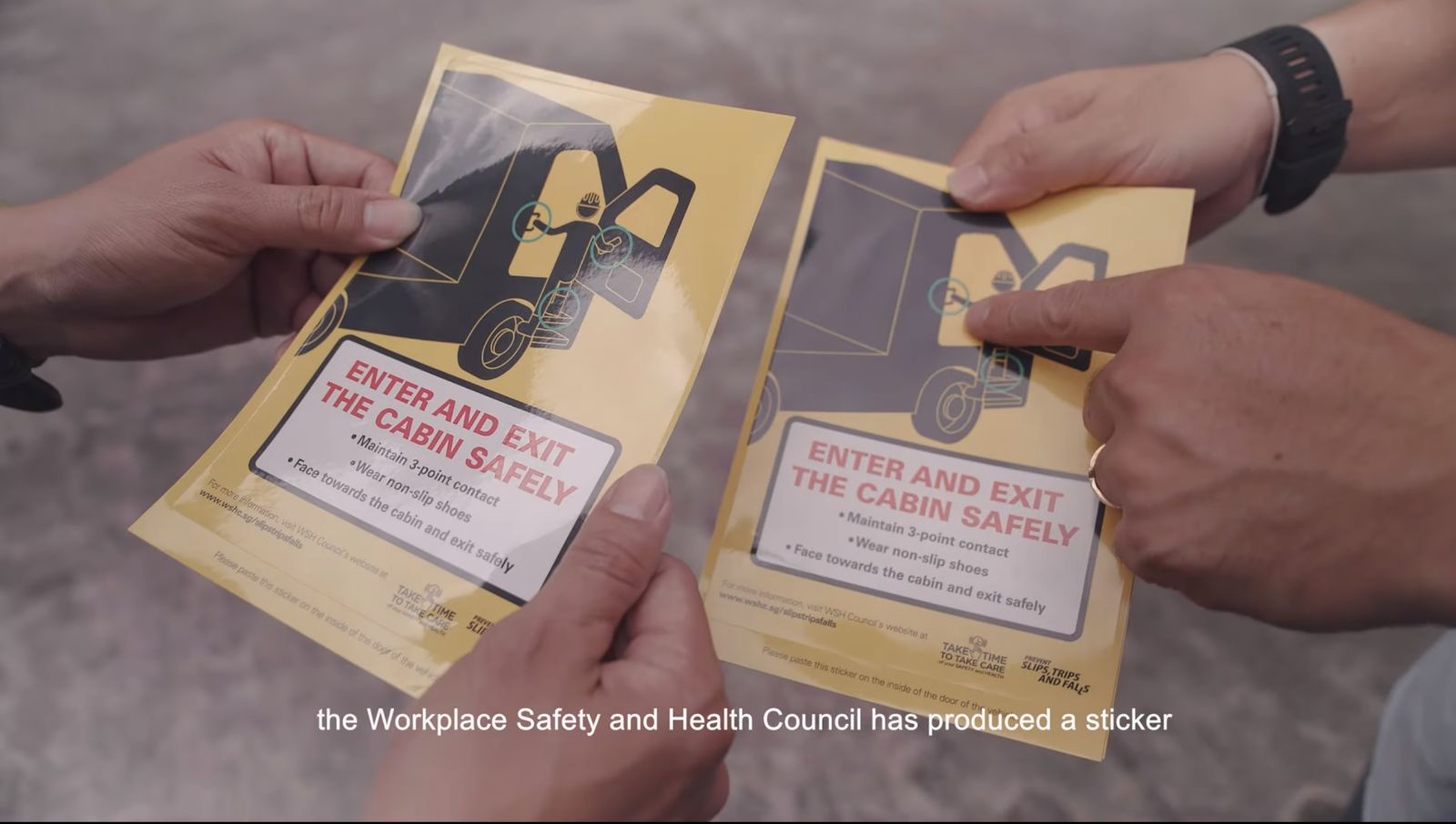 View the STF Campaign video on WSH Council's social media platforms such as Facebook and YouTube. To download the video, visit the WSH Council website here.
The STF stickers will be distributed to over 8,000 heavy vehicle drivers across major transport companies and associations.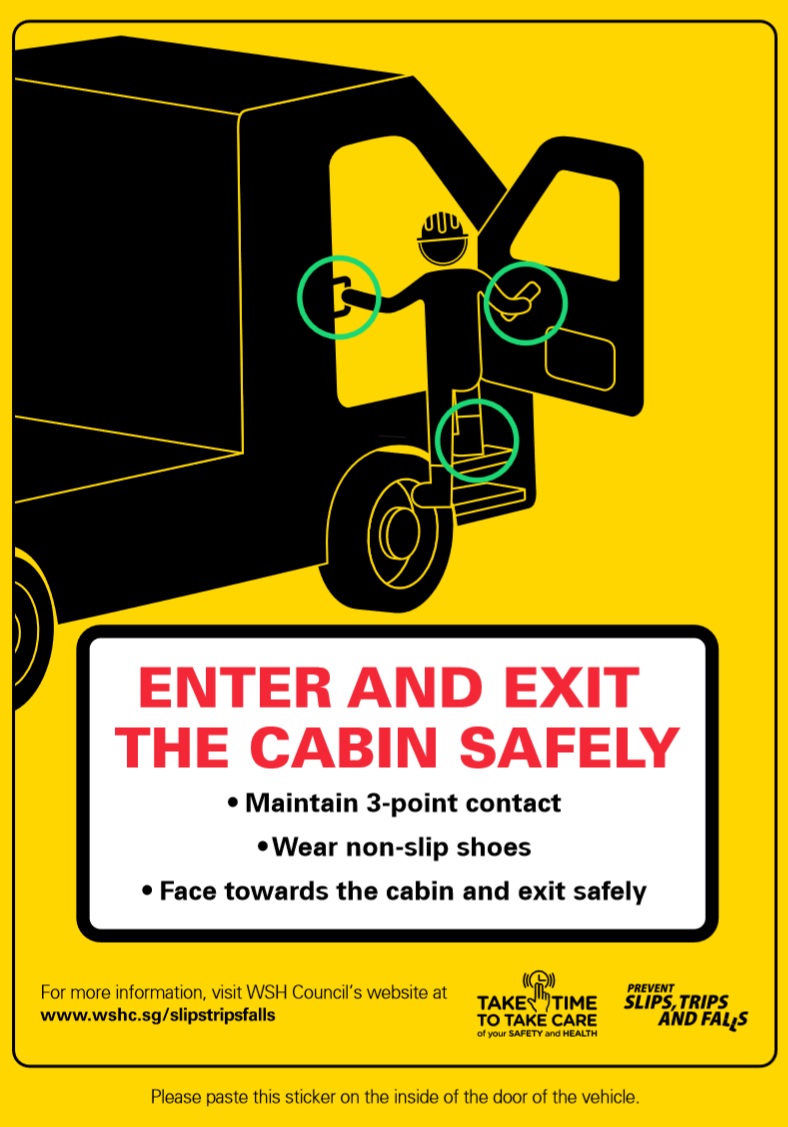 Download and print the STF sticker for your drivers here.
Get more information and resources on preventing STFs here.
To learn more about managing and improving your employees' health at the workplace, visit the National WSH Campaign 2020 microsite here.