Staggered Time
What is staggered time and how you can implement it in your organisation.
What Is Staggered Time
Staggered time is an arrangement where employees can vary their start and end times to suit their work and personal commitments.
These flexible bands should at least contain a 2-hour window (e.g. 7am to 10am start time and 4pm to 7pm end time). Typically, there is a core time during which employees must work (e.g. 10am to 4pm).
You need to work out the start and end times of the flexible lunch period, and the maximum and minimum lunch period that can be taken.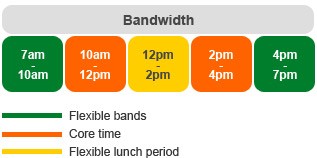 Above: Example of a staggered time arrangement
An employee's hours of attendance are recorded and calculated at the end of each settlement period (e.g. a week or a month). In some cases, excess or deficit hours can be carried over to the next accounting period.
How to Determine the Suitability of Staggered Time
To determine the suitability of staggered time in your organisation, you should:
Complete our sample checklist on factors to consider for staggered time (PDF).
Obtain management agreement on staggered time (e.g. duration, start and end times, and core time).
Identify limitations that may require employees to compromise on their preferred staggered time schedule (e.g. security issues).
If barriers to staggered time cannot be resolved, you may consider other
types of flexible work arrangements
.
How to Implement Staggered Time Successfully
In addition to the 4-step implementation model, you should:
Develop scheduling guidelines and procedures for your employees. You may download our sample guidelines (PDF) as a reference.
Communicate your scheduling guidelines and procedures to employees, including limitations that may compromise their preferred schedules.
Implement a 'roster' system that indicates days and times of work for all employees. This is useful for planning and scheduling purposes.
Ensure that employees in various teams are aware of employees working non-core hours, if any. This will help each employee manage their workloads and deadlines more effectively.