Closing the Gender Gap
Manufacturing is seen by many as men's work, but cable manufacturer Keystone Cable broke down this gender stereotype and is reaping the benefits.
02 Jan 2020 Interviews Best practices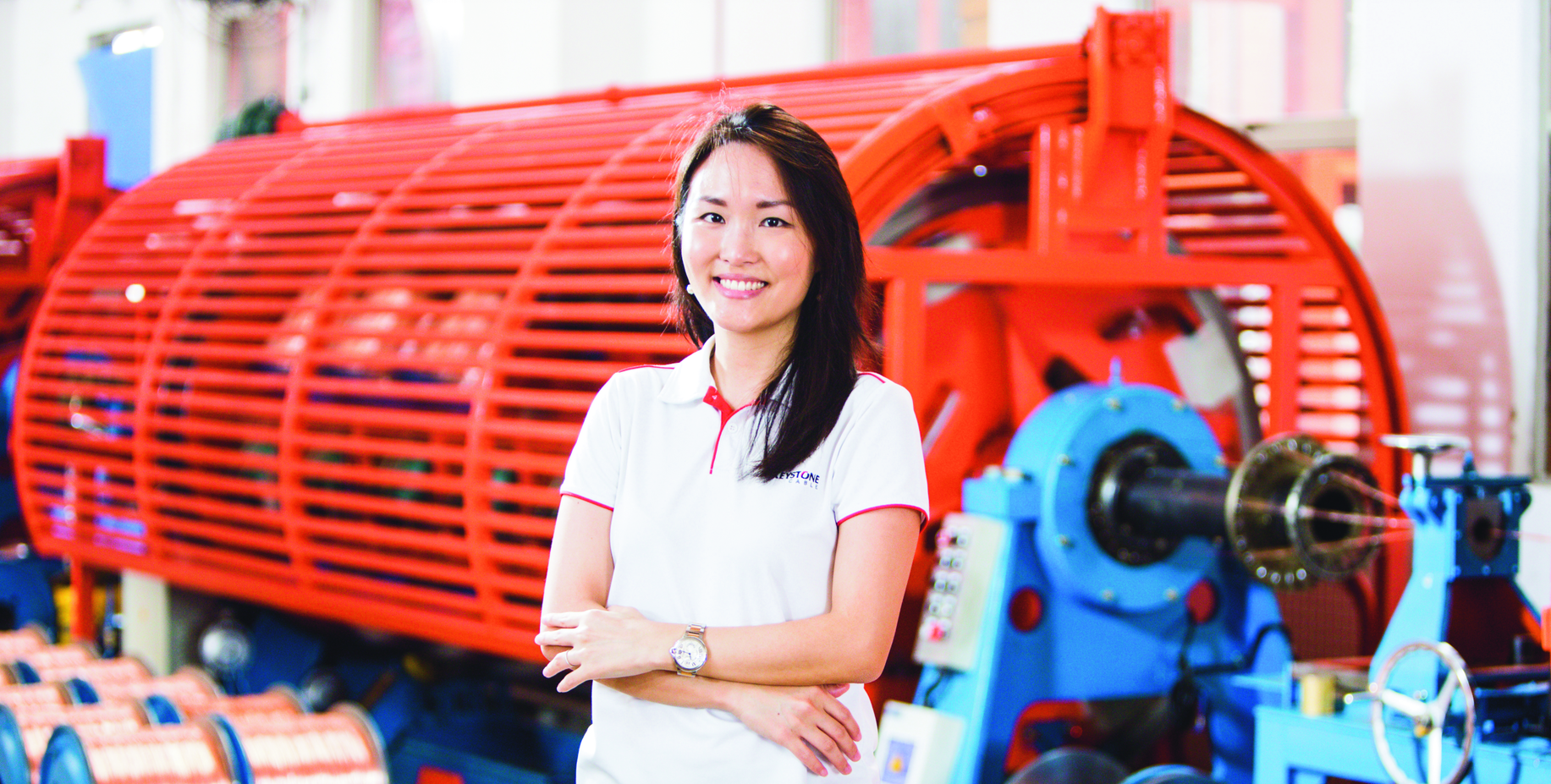 Ms Pearl Yu, Director of Human Resources (HR) and Marketing at Keystone Cable, shares her thoughts on practices that make workplaces inclusive for women.
Q: Share with us what Keystone Cable is like as an organisation and employer.
Keystone Cable is a family business, and our culture strongly reflects this. We treat our staff more as family members than simply as employees. My mom, the General Manager and matriarch of the company, is the catalyst behind this family-oriented culture. She knows every employee and their family members by name and takes genuine care of everyone's well-being both at work and beyond. This culture enables us to maintain a stable management team and workforce, which has helped the company grow over the years.
We also actively engage our employees to understand their career aspirations and craft their development paths accordingly. One of the advantages of being an SME is that we can be flexible and creative in developing our employees. In addition to the traditional promotion within the same job function, we have successfully moved many employees laterally to try completely different job functions according to their abilities and interests. For example, we have had a number of employees who joined us as delivery drivers and went on to become capable sales executives and managers.
Q: The manufacturing industry is known to be male-dominated. What are your thoughts on creating an inclusive workplace for women? How can inclusive practices translate to business benefits?
Women are just as capable as men and can also provide different perspectives for the company. I think it is a huge loss to organisations if women are excluded from any position because of their gender.
A good example is our Quality Control (QC) department, where we traditionally only have had men on the team. When Ms Nicole Chan, a fresh graduate with engineering training, came in to interview for a QC engineer position, we had some doubts. However, because of her humility, maturity, and genuine interest in the position and our company, we decided to hire her.
Nicole has proven to be one of the best hires. She has not only demonstrated the ability to handle her QC tasks, but more importantly, has fundamentally improved how the entire QC team operates with her communication and leadership skills. We promoted her to a supervisory role after just two years. Now in her fourth year with the company, she has continued to blossom into a confident and effective young leader.
Q: What can organisations do to ensure a workplace that recognises and counters gender discrimination?
Setting up a fair and transparent process for evaluation is important. In Nicole's case, we promoted her based on merit. Since then, we have only heard positive feedback from the ground as people recognise her contributions and capabilities.
Q: What tips can you offer employers looking to implement a fair, progressive and inclusive workplace?
Employers have to begin by recognising biases, as these can sometimes be on a subconscious level. Ms Kristen Pressner, my role model and HR Manager at my previous workplace, gave a TEDx talk titled "Flip-It-To-Test-It" in Basel, Switzerland last year. The idea was to "flip" a person's gender at any given situation, to test your response and see if you are being fair or biased towards the person. For example, in Nicole's case, if we "flipped" her gender, based on her resume, she would have been a clear-cut 'yes' for the interview, right from the start.
Q: Any tips for women in traditionally male-dominated industries out there?
Whether it is a traditionally male-dominated industry or not, it is important to know what our strengths are and where we can best contribute. In fact, a male-dominated industry may actually create opportunities for women to stand out and make greater contributions to the company.
This article first appeared in the January - March 2018 issue of Upbeat.