Getting ready for re-employment: Banking on experience
Engaging employees early to discuss re-employment issues.
Learning insights
Employers should engage eligible employees at least 6 months before they turn 63 to discuss re-employment issues.
Employers should offer re-employment contracts at least 3 months before the employees' retirement dates.
Background
Sarah was determined not to be one of those who stubbornly defended the good old days. Throughout her twenty years of employment, she had kept up with changes in technology, management strategies, business models and, of course, people.

Over the years, Sarah had also developed lasting friendships with many of the bank's regular customers. That was why Sarah was very puzzled when her manager, Amanda, told her that she needed to improve on her customer service. According to Amanda, three customers had written in to complain that Sarah had been rude to them. Sarah could not recall if she had served these customers. She asked Amanda for more details about the complaints but Amanda brushed her aside, saying that all she needed to know is that she will be placed on a Performance Improvement Plan. Sarah had to show some improvement within the month or she would be issued with a warning letter.

What improvements? Was Amanda deliberately picking on her? It had been a fairly uneventful week, and Sarah could not recall any incidents that might have led to such complaints.

It was two months shy of her 63 birthday, and Sarah had been thinking about whether she should retire or opt for re-employment. She had read in the newspapers that workers who turned 63 were eligible to be re-employed, but so far, Amanda had not spoken to her about this. "Could this be related to the complaints that Amanda was talking about?" wondered Sarah.


"It was a very stressful and frustrating time. I was constantly trying to figure out what went wrong and why I was being treated like this." - Sarah, 63

Sarah decided to check the Ministry of Manpower's website for more information. She wanted to know what recourse was available to her and where she could go for help. Sarah learnt that employers were obligated to offer re-employment to all eligible workers who turned 63. Sarah also found out that the Tripartite Alliance for Dispute Management (TADM) was set up to help employees resolve disputes with their employers.
How TADM helped
Sarah contacted TADM immediately. After understanding her situation, the officer suggested that Sarah attend mediation with her employer. TADM would bring both parties together, provide a neutral and objective environment for them to openly discuss their concerns, and help them to come to an agreement.

During mediation, Sarah shared her view that Amanda had schemed to deny her of re-employment. Amanda responded by explaining that Sarah was placed on a Performance Improvement Plan because of the complaints from customers about Sarah's service, and even produced the feedback forms to prove her point. She added the bank would have offered Sarah re-employment had she met the requirements of the Performance Improvement Plan.

Sarah could not help but ask Amanda why had she not discussed this with her earlier? Amanda simply stated that she had been very busy and had not received any instructions from HR or senior management.

The TADM Mediator then advised Amanda that the company should have had a conversation with Sarah on her performance and re-employment, six months before she turned 63. These actions could have helped to prevent the current dispute from arising. Amanda agreed with the officer, and promised to reflect his advice to senior management.
"Re-employment allows the organisation to retain the experience and knowledge of older workers. To successfully re-employ their older workers, employers should make sure that they discuss this issue early so that they have enough time to come to a mutually satisfactory agreement." - Mediation officer, TADM
When the TADM officer asked Sarah whether she would still consider re-employment, she hesitated briefly before declining. Sarah explained that she could no longer continue to work with the bank. While she was grateful to finally find out the company's intentions, her relationship with Amanda had been damaged too badly.

The TADM officer then turned to Amanda and suggested that the company consider this an early retirement for Sarah, instead of a termination of employment. This would help Sarah to preserve a good employment record and portray the company as a good employer who recognised the loyalty and contributions of long-serving employees. Both parties stood to benefit from such a resolution.
Outcome
Amanda agreed with the TADM officer's suggestion. While her relationship with Sarah had been strained recently, she could not deny that Sarah had been a reliable team member throughout the years, and even now, some customers continue to ask for her by name. Amanda then decided she would recognise Sarah's contributions by issuing a Certificate of Service to prove that Sarah had chosen to retire.

While both parties were not able to continue their employment relationship, they both left the meeting feeling relieved, having found answers to questions that they have been grappling with for a long time.
"This incident had threatened to end my two-decade career on a sour note. I am grateful to TADM for your advice, and for helping me to finally achieve closure on one of the most difficult periods in my career." - Sarah, 63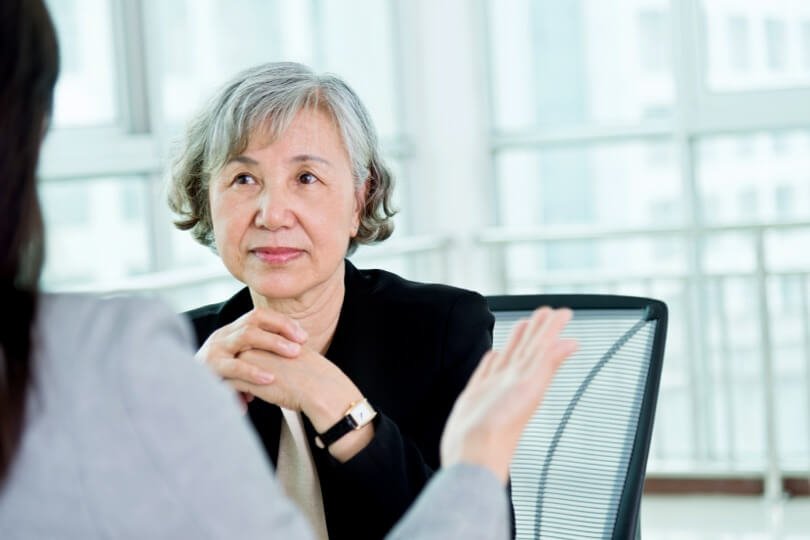 Disclaimer: This case was filed under Retirement and Re-employment Act (RRA) and MOM directed the case to TADM for mediation. All names of employees, employers and mediators in the case studies have been changed to preserve confidentiality. The case studies are for informational purposes only and they do not constitute legal advice. The Tripartite Alliance Limited shall assume no responsibility and shall not be liable for any loss of damage or claims arising from your reliance on any information provided in the case studies.